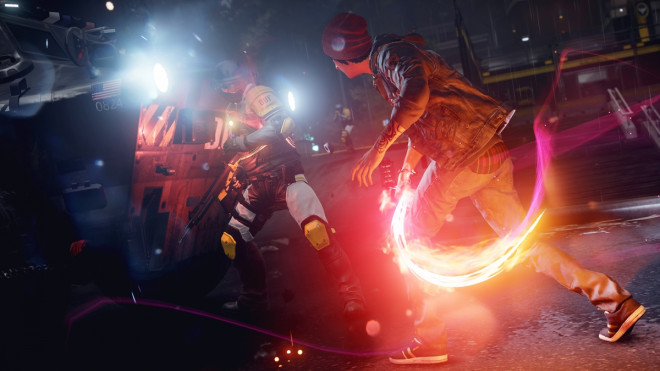 The PS4 exclusive Title, Infamous: Second Son, has now received a Day One patch, which adds 19 new missions into the game. This means that players are being treated to over five hours of additional content.
VideoGamer goes on to add that new episodic story missions will be added each week to form a new 'Paper Trail' storyline, which is a side-story that the developer calls as an "innovative online and in-game story arc".
It will aim at letting players explore and experience the full story behind the D.U.P.'s occupation of Seattle through the 19 new missions, apart from a series of "web-based investigations".
Interactive Content on Multiple Platforms
Players will be treated to fresh content each week for six weeks and it will be delivered directly via the game. Apart from this, the game's developer, Sucker Punch, is asking gamers to check out enjoyyourpower.com, since it offers additional gameplay and a back story to the world of Second Son, thereby allowing players to fill in the gaps.
Apart from Paper Trail, the 300mb update also contains the Cole's Legacy Content Pack, which will be available for free to customers who pre-ordered the game.
The update also contains tweaks, improvements and graphical improvements. Have a look the Full Patch Notes below.
Solid Reviews
Judging from the amazing reviews that the game is getting, it appears as though the PS4 exclusive, infamous: Second Son, is a great game to play. The game has managed to garner a solid 80 points on Metacritic and the rating is going up with every passing hour.
Control inFamous Second Son With Your Eyes
Colin Moriarty, in a report for IGN, spoke about this recent experience at the Game Developers Conference, where he was able to control Infamous: Second Son with his eyes on a PlayStation 4 was an SMI camera.
"It sounds strange – and it is – but this technology absolutely, positively worked", he said. "Before long, I had Delsin dashing around, using the DualShock 4's left analog stick and triggers while using my eyes to rotate the camera. If I wanted to go left, all I needed to do was look where I wanted to go, and the camera panned as Delsin ran in the proper direction. It was a staggering display of what PlayStation's tech gurus are working on in secret."
The day-one patch contains the following changes:
Difficulty Balance

Normal difficulty has been slightly increased to challenge the player's mastery of their powers
Expert difficulty has been fine-tuned to ensure it is the best experience for skilled gamers
Karma progression extended to support longer playtime

Boss Fights

The boss fights have been re-tuned for difficulty and fun
More dynamic boss behaviors and attacks

Pedestrians and DUPs

Engine performance tweaks to allow for more life and activity in the city
Increased pedestrian and traffic density and variety
Increased pedestrian-related karmic opportunities
Post-story enemy activity and D.U.P. raids

Technical Improvements

Graphics and performance improvements
Fixes for a small number of infrequent blocking bugs
PSN integration to support Paper Trail DLC