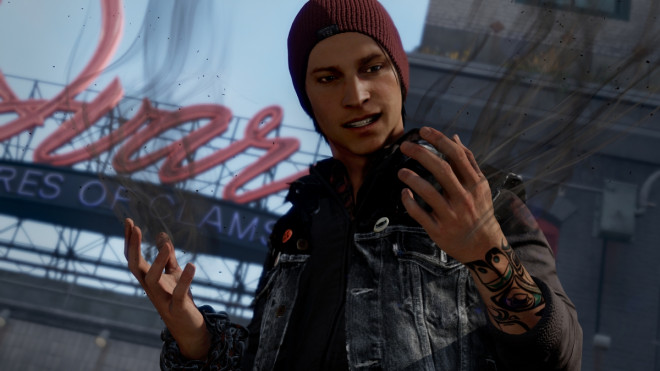 Gameplay footage of inFamous: Second Son, a Sony PlayStation 4 exclusive, has been leaked online. This development comes exactly a month before the game's release.
The video happens to be in Russian and for those who don't speak the language, there are captions. It comes from YouTube user Gradly, who has two other gameplay videos on his account.
The video showcases a portion called Neon Night. Players will watch Delsin, the game's main character, move through the city's rooftops and walls in absolute super humans style.
In this game, Delsin will be able to suck up the powers of conduits, who are superhumans with powers.
Sucker Punch, the game's developer has assured fans of the franchise that there will be a plethora of powers for gamers to enjoy in inFamous: Second Son.
Earlier this month, GameStop Italy was offering themed glow-in-the-dark condoms and two cans of Red Bull along with pre-orders of the game so that players could pull an all nighters.
At first sight, condom use and all-night game-playing seem unlikely bedfellows, but that hasn't stopped GameStop from gleefully proclaiming its special offer.
"A fill of energy for an explosion of pleasure!" reads the translated bold print at the top of the box, according to Eurogamer. "Enjoy your power!" it says below in English.
Exclusive to Sony's PlayStation 4, inFAMOUS Second Son is scheduled for UK release on March 21. Expect a PS4 game bundle at the same time.
Check out a trailer for inFAMOUS Second Son on YouTube, below:
Source: VG247