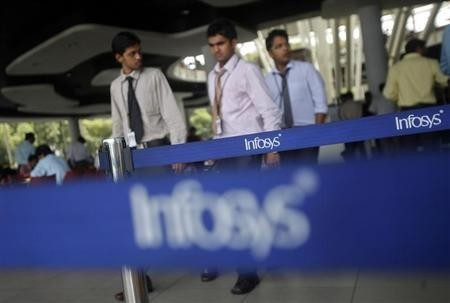 Indian IT services major Infosys expects higher sales in the ongoing fiscal year due to increased IT spending by US and European firms as they emerge from the global financial crisis.
The Bangalore-based company expects revenue growth in the range of 7 to 9% for the fiscal year that began on 1 April. That is below the average estimate for the sector of 12-14% by the National Association of Software and Services Companies, a trade association of Indian IT and BPO industry.
For the previous fiscal year ended on 31 March, India's second-largest IT company reported an 11.5% yearly rise in revenues to $8.3bn (£5bn, €6bn). The net profit rose marginally to $1.75bn from $1.73bn.
"I am pleased that we have been able to double our growth rate for the full year compared to last year, though performance in the last quarter of FY 14 has been disappointing," CEO S D Shibulal said in a statement.
"We have guided for a revenue growth of 7%-9% next year and remain firmly focused on building the growth momentum by making all the necessary investments in our business."
In an interview with India's NDTV, Shibulal said the company was continuing to invest to boost its sales force.
"We are recruiting 200 people from best universities like Stanford, MIT and Harvard."
Infosys brought back its retired founder N R Narayana Murthy as chairman after the company suffered a decline in its market share, amid stiff competition from low-cost local rivals.
After the return of Murthy, Infosys witnessed an exodus of senior executives and staff from the company, adding to worries over its competitiveness.
For the fourth quarter of fiscal year 2013-14, the company, which employs 160,000 people, reported an attrition rate of 18.7%, compared to 18.1% in the third quarter and 16.1% in the comparable period last year.
Earlier, Infosys said it had hired executive search firm Egon Zehnder to help find a successor to Shibulal who announced an early retirement.
This would be the first time the company looks to hire as CEO someone who is not its founder. Like Shibulal, former CEOs -- Murthy, Nandan Nilekani and Kris Gopalakrishnan – were also co-founders of the company.