French gymnast Samir Ait Said has vowed to make an Olympic comeback in Tokyo in 2020 after his dream of scoring gold at Rio was dashed when he broke his leg. Viewers watched in horror as the French gymnast stumbled after a vault and collapsed to the ground.
The 26-year-old athlete was performing during team preliminaries of the Artistic Gymnastics on Saturday (6 August) in Rio. There was an audible gasp as the watching crowd heard the loud crack echo as Said's leg snapped.
Said's mother, his bus driver father, his sister and his girlfriend were in the crowd watching as he writhed in pain.
As he exited the arena on a stretcher, Said received a standing ovation from the crowd. Showing his gratitude for their support he raised his arm as he was led away. But he was dropped by stretcher bearers as they helped him to an awaiting ambulance.
Now recovering from his injury after undergoing surgery, the 26-year-old urged his supporters to back the remaining French team and pledged to return in 2020 in a Facebook post from his hospital bed.
"The operation went very well, I should be back on my feet in a short time. I will go back to the training camp to encourage my friends because the competition is not over," he said.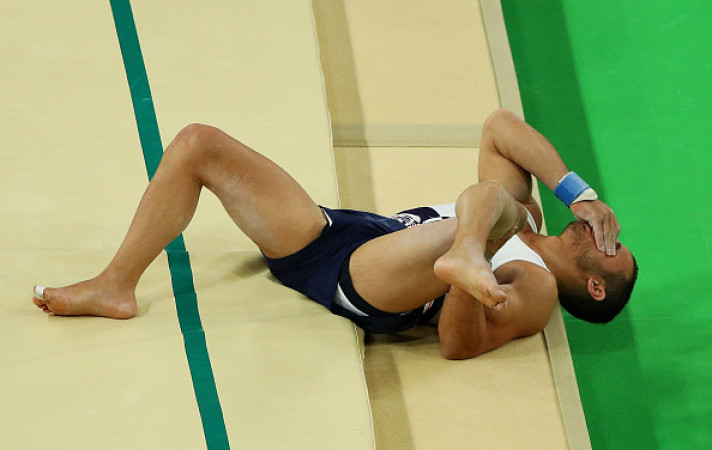 "We must all get behind the guys in general contest and the men's gymnastic horse event. The team managed to mobilise after my fall and that cannot have been easy. They are real fighters.
"Well guys, I say 's***!' Be strong, be good, I am with you, and for all of you I sent you a big embrace, and believe me my dream of making Tokyo 2020 is still on! As soon as I'm back on my feet, believe me, I will be training and looking for Olympic gold."'
It is the second time the Olympic hopeful has suffered a serious injury, previously breaking his right leg before the London games in 2012, also during a vault.