How to Install Adobe Flash Player 11.1 on Nexus 4, Nexus 10 or Any Other Android Device [GUIDE]
Android users may be worried by the fact that Adobe pulled out its Flash Player app from the Google Play Store a few months ago.
"We will no longer continue to develop Flash Player in the browser to work with new mobile device configurations (chipset, browser, OS version, etc.) following the upcoming release of Flash Player 11.1 for Android and BlackBerry PlayBook," read a statement on the company blog.
However, the Android development community has stepped in to offer Flash Player APKs for manual download and installation through developer web-portals.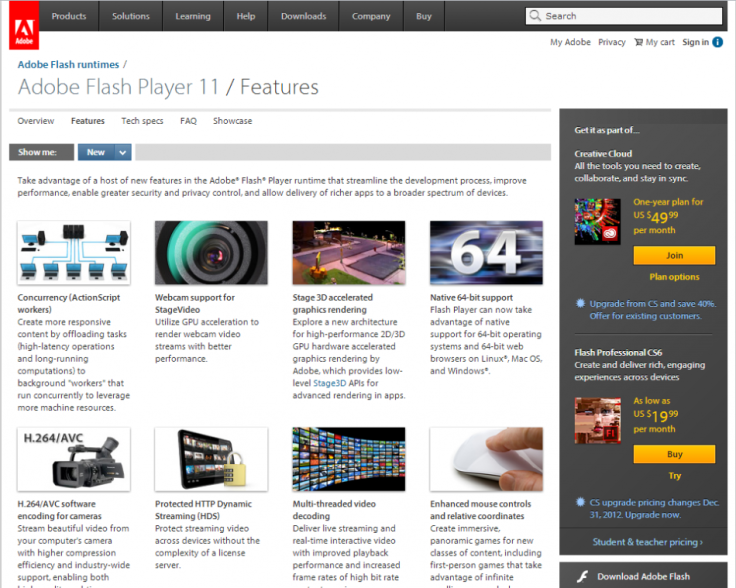 This should come as something of a relief for Android users unable to access Adobe's flash player services for their devices, particularly the Nexus series (Nexus 4, Nexus 7 and Nexus 10, which port Android 4.2 with no support for Flash Player).
Here is a step-by-step guide to install the latest version - Adobe Flash Player 11.1 - on any of your favourite Android devices:
Steps to Install Adobe Flash Player 11.1 on Nexus 4, Nexus 10 or Any Other Android Device
Download Adobe Flash Player 11.1 APK from here
Copy the APK to your device
Navigate to Settings > Application and select "unknown resources". Then click OK if you get a warning message
Now, browse and locate the APK file that you copied to your device
Double tap on the APK file to open the app manager
Finally, click on Install and follow the onscreen instructions to complete the installation
Adobe Flash Player 11.1 is now successfully installed on your device. You can now stream any online video, audio or view multimedia apps seamlessly on your device through Flash Player.
[Source: Android Egis]
© Copyright IBTimes 2023. All rights reserved.