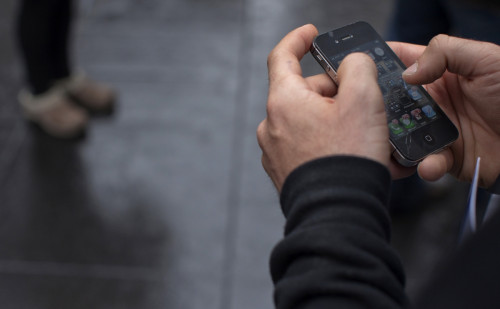 Twice as many messages will be sent through smartphone chatting applications like WhatsApp than through traditional SMS text messaging this year.
It is predicted that instant message (IM) applications will be used to send 300 billion messages in the UK in 2014, compared to 140 billion texts.
Text messages sent in the UK in 2012 outnumbered instant messages by almost three-to-one (152 billion and 57 billion respectively), but for 2013 the tables have turned and figures published by Deloitte reveal IM overtook text messaging (SMS) for the first time.

The decline in SMS use is expected to continue through 2014, while IM soars, up to 300 billion messages for the year, more than double the 140 billion texts expected to be sent.
Reaching a tipping point
Paul Lee, head of telecoms research at Deloitte, told the Guardian: "This is the first decline in texting in the UK since texting was invented. We have reached a tipping point. But the usage of mobile phones to send messages is stronger than ever. This year, trillions of instant messages will be sent in place of a text message."
However, this claim is at odds to figures released by Ofcom in late 2012 to coincide with the 20th anniversary of the first SMS being sent.
At its peak in the fourth quarter of 2011, the UK saw 39.7 billion text messages sent, the telecom regulator stated. This fell to 39.1 billion in the first quarter of 2012 and fell again to 38.5 billion in Q2.
James Thickett, Ofcom's Director of Research, said in December, 2012: "For the first time in the history of mobile phones, SMS volumes are showing signs of decline. However the availability of a wider range of communications tools like instant messaging and social networking sites, mean that people might be sending fewer SMS messages, but they are 'texting' more than ever before."
SMS to generate 'significantly greater revenues' than IM
But even as IM applications quickly overtake SMS use, text messaging will still earn much more revenue. Deloitte expects SMS to generate more than $100 billion (£61bn) in 2014, the equivalent to approximately 50 times the total revenue from all instant message services combined.
"We expect SMS to continue to generate significantly greater revenues than IM even as far out as 2018, by which point global SMS revenues are expected to have started falling," the report said.
Looking at the bigger picture, increased use of IM over SMS will see greater consumer interest in mobile broadband, and while Deloitte admits it is difficult to assign an exact value to the rate at which this is happening, the impact on IM and mobile broadband take-up is "sizeable and should become larger still over time".