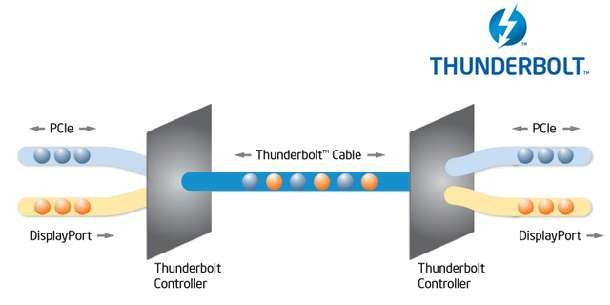 The advent of Intel's Thunderbolt technology is expected to throw the famed USB 3.0 interface technology to the sidelines while it is theoretically estimated to boost the data transfer speeds between the PC and peripheral devices up to 10Gbps. However, practically such speeds have not been tested so far to make any claims.
The arrival of the new technology is assured to deliver greater responsiveness alongside reliability by unifying data and display communications across a single cable. The devices could hence be connected in a daisy chain which would enable simpler yet faster communication across the I/O devices.
According to Intel's claims, the industry first connectivity and performance benefits with Thunderbolt are as follows:
Simultaneous bi-directional, 10Gbps transfers over a single cable
Dual -protocol support (PCI Express and Display Port) - Simultaneous communication of both interfaces on a single bus
The new technology is compliant with existing DisplayPort devices
Daisy-chaining devices
Choice of using either electrical or optical cables - The optical fibre technology has its use with faster data transmission aiding in quicker I/O processing and reducing resource overheads in converting electrical signals to optical signals or vice-versa.
Professional audio and video editing would benefit with low latency (seek times) and highly accurate time synchronization. A feature mostly loved by photographers and designers for better results with audio and video synchronization.
Uses native protocol or platform independent software drivers. So, the user need not install any additional drivers to enable the technology.
Power-over-cable for bus-powered devices - the data cable transfers data as well as powers the device and no additional power source required.
Reports suggest that Thunderbolt compliant motherboards, notebooks and desktop computers are in the making and would find a massive release by second quarter of 2012.
Thunderbolt currently holds a market production cost of $20 per device and is forbiddingly expensive for most entry-level computers. The production costs are expected to drop in the second quarter of next year, as the technology is reproduced over a wider product base. However, Intel needs to actively participate in nurturing and promoting the technology across brands and production units in order to make it a global success.
According to Digitimes, Sony and Asustek will be amongst the first to implement this technology on their high-end computers. Meanwhile, Gigabyte is expected to release a motherboard with Thunderbolt technology in April 2012. Thunderbolt would no longer be Apple's exclusive domain, as Acer is also expected to release its own Thunderbolt based computers in September 2012.