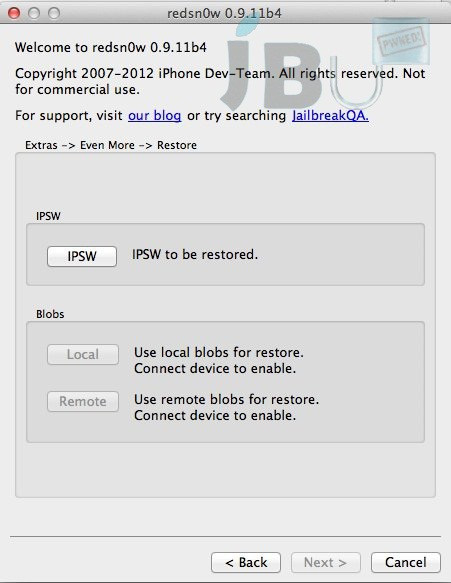 Finally, there is some good news for A4 device jailbreakers who recently upgraded their device to iOS 5.1.1. The iPhone Dev Team has once again joined the party with the release of an updated jailbreak tool for Redsn0w with full support for iOS 5.1.1.
The new jailbreak update features a couple of key improvements - the user is no longer required to point the tool to older firmware like in earlier versions of the Redsn0w, meaning the download of older firmware is not required and Redsn0w 0.9.11b4 now offers complete tethered jailbreak support for iOS 5.1.1.
"Version 0.9.11b4 completes the tethered JB support for 5.1.1 on A4 devices and earlier, including proper 'Stitching' and 'Custom' creation of NO_BB IPSWs," the iPhone Dev Team said on its official blog.
Apart from offering tethered jailbreak support on A4 devices, Redsn0w 0.9.11b4 now brings remedies to users trying to downgrade their iOS 5.1.1 device to iOS 5.1 or iOS 5.0.1 using Redsn0w and those who ended up with a rather disappointing message saying "Restore failed", reports Jailbreak Untethered.
According to Jailbreak Untethered, the new Redsn0w update does not interfere with nearby devices with the option of Wi-Fi syncing enabled. Besides, it offers support for "stitching" and creation of "custom" firmware file (IPSW), which in turn helps in preserving the older supported basebands.
Here is the step-by-step guide of how to jailbreak A4 devices and below (iPhone 4, iPad 1, iPod touch 4/3G, iPhone 3GS etc.) on iOS 5.1.1 using RedSn0w 0.9.11b4.
Step 1: Download RedSn0w 0.9.11b4 for your operating system.
Windows (must run as Administrator)
Step 2: Although not mandatory, it is recommended that users backup their data before going ahead with the jailbreak process. You can perform a backup of the content by connecting the device to iTunes or to iCloud if enabled.
Step 3: After completing the backup, upgrade the device's firmware to iOS 5.1.1. This can be done via an OTA update on the device or by connecting the device onto your PC or Mac, launching iTunes and accepting license agreement and then installing the update. The alternative is to download the iOS 5.1.1 device-specific firmware file and do a manual install through iTunes.
Step 4: Now, navigate to the RedSn0w download folder, unzip the contents and run the executable file to launch RedSn0w.
Step 5: On the main home screen of Redsn0w, select "Jailbreak" and make sure the "Install Cydia" option is selected before proceeding.
Step 6: Now, follow onscreen prompts to put the device into DFU mode.
Step 7: When the DFU mode is detected, Redsn0w will automate the rest of the process on-screen before finalising the device. During the process, white lines of text will appear scrolling down the device's screen, which is entirely normal. Once the device reboots, the Cydia icon should appear on the home screen, which confirms that the jailbreak process is complete.
Because it is a tethered process, users will have to boot their devices into tethered boot mode on every restart. Users can do this by launching Redsn0w, selecting "Extras" and then "Just Boot" in order to boot the device tethered.
[Source: Redmond Pie]
Watch the Video Tutorial below:
MUST READ: iOS 5.1.1 Untethered Jailbreak: Pod2g Adds iPad 3,3 Support to Absinthe 2.0, Release Imminent
MUST READ: iOS 5.1.1 Jailbreak: How to Use Seas0nPass for Apple TV on iOS 5.1 [GUIDE]