A few days ago, leading iOS security researcher pod2g announced he had successfully jailbroken the iPhone 4 and the iPad 3, running iOS 5.1.x untethered. The latest update from the veteran hacker adds the iPad 1 and 2 to that list.
A Twitter post reveals the new untethered exploit worked on both first and second generation iPads, besides fully supporting the next-gen iPad model.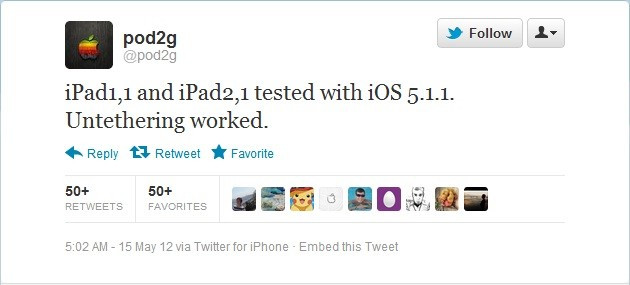 "iPad1, 1 and iPad2, 1 tested with iOS 5.1.1. Untethering worked," tweeted pod2g, confirming the working of the new jailbreak on iPads 1 and 2.
The veteran hacker had earlier hinted that the public release of the untethered jailbreak for iOS 5.1.1 would be available in a couple of weeks and the rapid progress the team of elite hackers has achieved so far will only strengthen pod2g's claim.
In the past few weeks, pod2g has been busy unearthing exploits and testing them on all the iOS devices, while also confirming which of them work flawlessly with his iOS 5.1 jailbreak. So far, the iPhone 4, thhe iPhone 4S and all three generations of the iPad have passed the test. But, the third-generation iPod Touch and the iPhone 3GS are still proving difficult and may need more exploits.
Given the rapid progress made so far, pod2g and his dream team of hackers are all set to unleash the most-awaited untethered jailbreak for iOS 5.1.1 at the 'Hack In The Box' (HITB) conference held from 21 May through 25 May. Now, the only challenge faced by the elite troop of hackers is packaging the exploits into a public release version of the jailbreak tool. If earlier tweets from pod2g and Chronic Dev Team are to be believed, we could see the next untethered jailbreak release as early as next week at the HITB conference in Amsterdam.
MUST READ: iOS 5.1.1 Untethered Jailbreak: iPhone 3GS and iPod Touch 3G Also Support Pod2g's Exploits
MUST READ: iOS 5.1.1 Untethered Jailbreak: Will it Release at the Upcoming 'Hack In The Box' Conference?