The recently released Pangu jailbreak tool for iOS devices running iOS 7.1.x reportedly comes with potentially harmful third-party software called "PPSync" which is meant to facilitate installation of pirated apps.
According to renowned iOS developer Karen Tsai aka angelXwind on Reddit, PPSync (aka Chinese version of AppSync) is said to be buggy and problematic given its poorly written code or un-optimised code for iOS devices.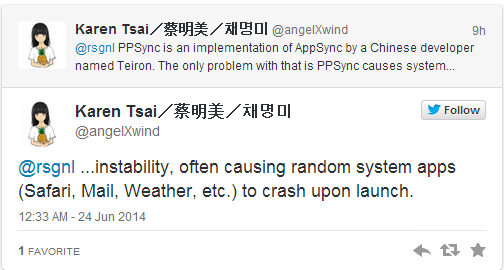 The developer further clarifies about the issues pertaining to the installation of PPSync on her website, saying in her recent tweet that it could result in various system stability problems such as random crashing of system apps like Safari, Mail, Weather and other unexpected behaviour such as disappearance of SpringBoard icons and random resprings.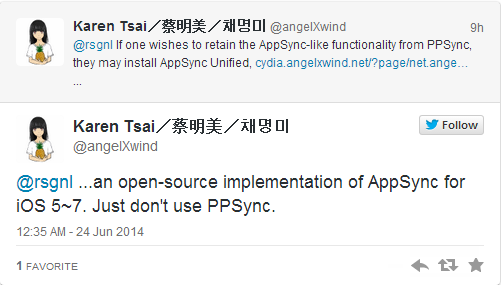 Karen Tsai urges jailbroken users not to check the box meant for installing PP Helper (see screenshot below), while installing the PanGu 7.1.x untethered jailbreak.
However, those who accidentally installed the PP Helper software can now uninstall the same in a few simple steps, using Karen's Complete PPSync Remover from Cydia.
Since the PPSync Remover package is not listed under default repositories, it is imperative to add the same in Cydia source list on your device.
How to Remove PPSync From Pangu Jailbroken Device
Navigate to Manage > Sources > Edit and click Add to add the repo at "http://cydia.angelxwind.net/" to your Cydia/APT sources.
Install Complete PPSync Remover (net.angelxwind.completeppsyncremover) from Cydia.
Remove PPStore from Cydia.
Go to Settings > General > Profiles and remove the 25pp certificate. If Profiles section is missing, or if there is no 25pp profile, that is fine. It actually means that PanGu never installed a certificate.
You are done. And the Complete PPSync Remover automatically restores: "/Library/LaunchDaemons/com.apple.mobile.installd.plist"
If you wish, you can uninstall Complete PPSync Remover.