Several iOS 7.1 users have been reportedly complaining of rapid battery drain issues and reduced battery-life performance on their iPhones, iPads and iPods, despite Apple introducing several bug-fixes and performance tweaks in its latest iOS update.
Users with affected devices have reportedly taken to Twitter, Facebook and Apple support forums to vent their ire and disappointment over the sub-par battery performance after installing iOS 7.1.
Here are some Twitter comments on iOS 7.1 battery drain issue, posted by unhappy users: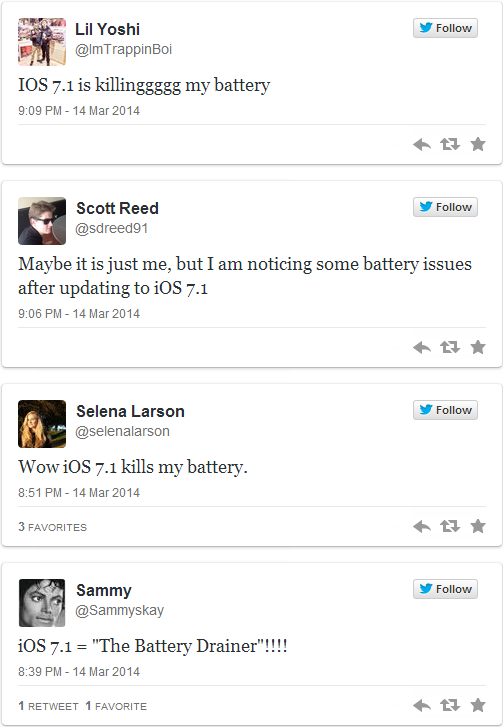 iOS 7.1 is widely reported to boost the overall speed of an iDevice for a seamless user-interface experience, while allegedly trading-off the battery charge rapidly. Though Apple is yet to acknowledge the problem officially, several industry experts have suggested that a complete restore and reinstall (clean install) of iOS 7.1 could probably fix this issue.
Earlier, some users also reported major Touch ID issues following iOS 7.1 update on their iPhone 5s. The issue could be resolved in a few simple steps using our step-by-step guide posted here.
What the Wi-Fi Battery Life Tests Say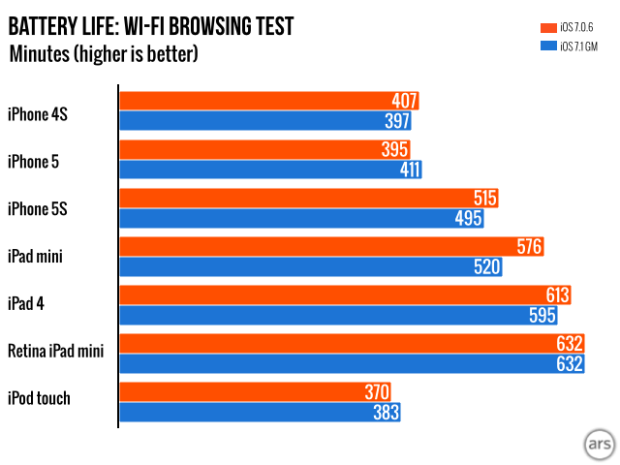 According to ArsTechnica, the Wi-Fi browsing test results conclude that the impact of battery life issue in iOS 7.1 is minimal. It is further ascertained that the issue is not widespread as some devices such as iPhone 5 and iPod Touch reveal better battery-life scores for iOS 7.1 in comparison to its previous iteration, iOS 7.0.6.
The Retina iPad mini shows no change in battery-life performance following the iOS 7.1 upgrade.
Furthermore, the test chart for battery-life: Wi-Fi browsing is depicted on a scale of minutes and not in hours. Hence, the variations in battery-life scores between iOS 7.0.6 and iOS 7.1 are not significant.
How to Fix Reduced Battery-Life Issues in iOS 7.1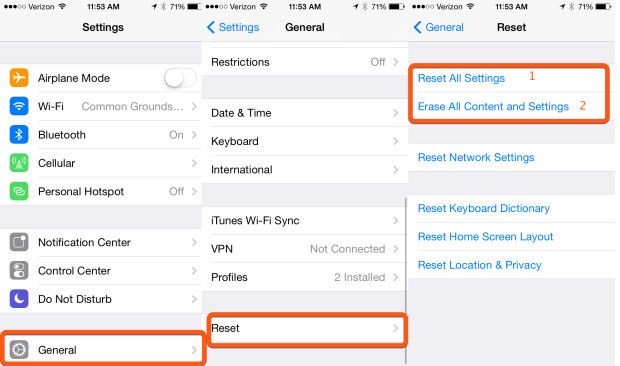 iOS 7.1 users who are experiencing rapid battery drain or reduced battery-life on their devices can follow a couple of simple steps to resolve the issue (courtesy of GottaBeMobile). Here is what you need to do:
Try resetting all settings on your phone without erasing content as follows:
Tap on Settings > select General and scroll down to find Reset option.
Now select Reset and tap on Reset all Settings.
Enter the passcode if prompted
The phone should now automatically reboot and reset to default settings. This procedure will not erase any content on your device such as apps, photos and other user data.
However, if the issue persists then perform the following steps:
Tap on Settings > select General and scroll down to find Reset option.
Now select Reset and tap on Erase All Content and Settings.
Enter the passcode if prompted.
NOTE: If you perform the erase operation (second method), you might lose all data on the device including user-data. So, it is imperative that you back up important data before you try this method.
If everything else fails, then restoring and reinstalling a clean copy of iOS 7.1 could be your last resort.