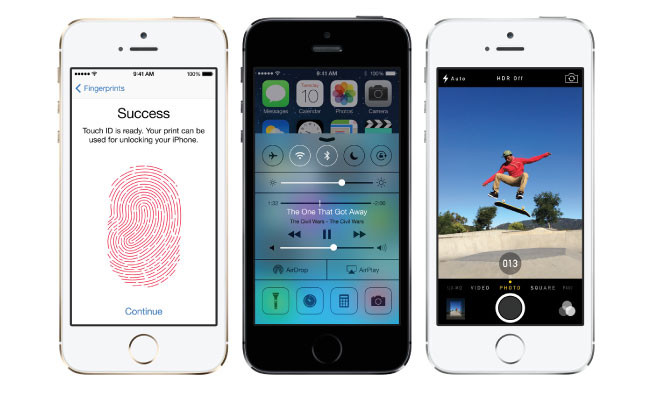 Apple rolled out the highly-anticipated iOS 7.1 bug-fix and performance update with Touch ID improvements just a couple of days ago.
However, some iPhone 5s users have been reportedly flooding Apple's support forums with complaints of non-functional or buggy Touch ID feature.
The growing list of user woes includes difficulty in producing a match for their fingerprint authorisation with Touch ID sensor as the fingerprint pattern is not being recorded or there is an unexpected mismatch with the registered prints thereby forcing the user to employ the alternative passcode to unlock the device.
At times users are unable to even procure a fresh fingerprint registration as the fingerprint recognition software seems to be buggy as well, according to latest reports Apple support forums.
Consequently, users are unable to reset the Touch ID feature through a series of device reboots or enabling/disabling the feature. The issue seems to be consistent across all affected iPhone 5s devices, as one user writes on Apple's support forums:
After installing iOS 7.1 Touch ID stopped working. When I put my finger on the sensor nothing happens. I already tried rebooting and switching Touch ID on and off. None of that seemed to work.

Right now I'm trying to set up a new fingerprint but it doesn't even start scanning when I put my finger on. It just doesn't do anything. I have a feeling that the sensor might be broken…
Another user complains after failing to register a new fingerprint via iOS settings > Touch ID & Password:
It doesn't even react to my finger.

No Vibration, nothing. After waiting a few seconds it worked again, but just until the next vibration. Now it doesn't do anything.
Some iPhone 5s users have revealed that the Touch ID only works when their phone is plugged into the charger.
If you are one of the affected users, you could try a few simple workaround steps to resolve this issue.
How to Fix iOS 7.1 Touch ID Issues on iPhone 5s
Try deleting the previously saved prints on your phone, before trying to add a new fingerprint. Go to Settings > Touch ID & Passcode and enter your passcode. Then tap on a print to delete it and finally hit Add a Fingerprint once the print data is loaded.

Try restoring the iPhone 5s from a previous backup that may be saved to your computer's hard drive or via iCloud. To do so, connect your phone to computer and wait until iTunes recognises the device. Then choose the device in iTunes and select Restore iPhone option. Finally, after backing up the device's current settings, hit Restore and Update.

After the device is restored, repeat Step 1 to get the Touch ID feature functional again.

If the issue still persists, calling up Apple support for a firmware update or unit replacement could be the last resort.