Here is a piece of good news for those who have been waiting for a Mac version to jailbreak iOS 8.1.2.
A new jailbreak tool, PP Jailbreak, developed by Chinese jailbreakers has been released for support of Mac OS X to perform jailbreak on devices running iOS 8-iOS 8.1.2.
Last November, the Chinese jailbreak developer team, TaiG, released an untethered jailbreak for iOS 8.1.1-iOS iOS 8.1; it also supports iOS 8.2 beta. While the initial release was for the Windows version only, the TaiG team is working on a Mac version of their jailbreak tool.
Meanwhile, an unidentified jailbreak developer team has confirmed that availability of their PP Jailbreak for Mac. Several users on Reddit have confirmed this jailbreak tool works fine.
"Yes, I think it's legit. I haven't had any issues with it as of now. If you don't forget to uncheck the box in the tool I think it's safe to use," confirms a Redditor.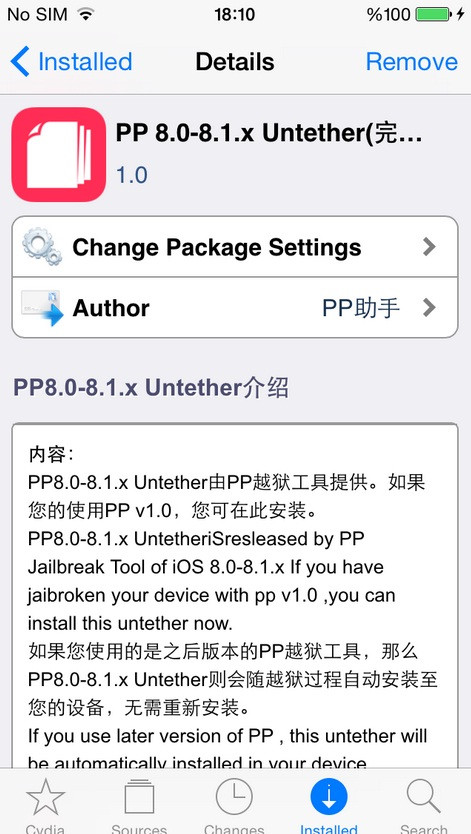 The PP Jailbreak supports the following iPhone, iPad and iPod touch models running iOS 8-iOS 8.1.2.
Compatible devices
iPhone models: iPhone 6, iPhone 6 Plus, iPhone 5s, iPhone 5c, iPhone 5, iPhone 4s
iPad models: iPad Air 2, iPad Air, iPad 4, iPad 3, iPad 2
iPad mini models: iPad mini 3, iPad mini 2, iPad mini
iPod touch: iPod touch 5<sup>th generation
If you are a Mac user and wish to jailbreak your iOS 8 device using PP Jailbreak, head over to the following jailbreak method.
Keynotes
Create a backup of all important data of your iOS running device using iCloud or, iTunes.
Verify that the device is having above 80% battery charge.
The jailbreak method is compatible with aforementioned iPhone, iPad and iPod touch models running iOS 8-iOS 8.1.2.
The PP Jailbreak is only for Mac; OS X 10.7 or higher. If you are Windows users, you can use TaiG jailbreak.
Disable any anti-virus programme or, firewall temporarily for the jailbreak. These programmes could prevent the PP Jailbreak from connecting to the internet.
Jailbreaking your iOS device will void the manufacturer's warranty.
Proceed with extreme caution, as the safety of this PP Jailbreak is yet to be confirmed.
IBTimes UK will not be held liable for any damage to the device.
How to jailbreak iOS8-iOS 8.1.2 on Mac using PP Jailbreak
Step-1: Download the latest version of PP Jailbreak too on your PC
Download link: PP Jailbreak
Step-2: Connect your iOS device to the computer using USB cable
Step-3: Go to Settings>> Touch ID & Passcode to disable Passcode
Step-4: Also disable Find my iPhone from Settings>> iCloud>> Find my iPhone
Step-5: Double click on the PP Jailbreak tool to launch it
Step-6: The PP Jailbreak tool will take a few minutes to detect your iOS device. When you get confirmation that it is showing the correct firmware version, deselect the check box at the bottom as it could install the Chinese pirated app store
Step-7: Click on the button at the center to proceed
Step-8: On the next page, click on the button to the right to proceed, which says to disable the Passcode and Find my iPhone features
Step-9: Once the jailbreak process is completed, your iOS device will reboot automatically. You should then see the Cydia icon on your Home screen
You can now enjoy your iOS 8-iOS 8.1.2 jailbroken device.
Note: Re-enable the Passcode and Find my iPhone features after the process.
If you have updated your device to iOS 8-iOS 8.1.2 through over-the-air, and the jailbreak process is not successful, try to perform a fresh installation of the iOS firmware using iTunes.
[Source: iPhone hacks]