iOS 8.1.3 most common bugs and problems: How to fix them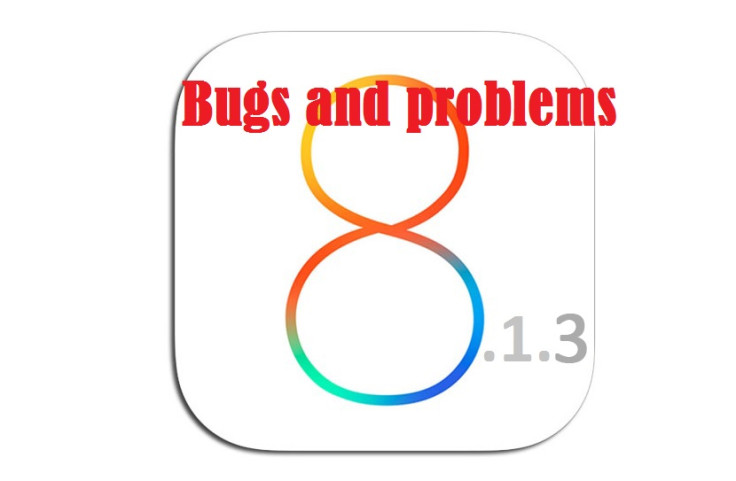 iOS users have been plagued with numerous bugs and problems ever since the release of iOS 8, while Apple has been busy churning out bug-fixes with every incremental update for iOS 8 through iOS 8.1.3.
Meanwhile, the iOS 8.1.3 update also brings its own share of issues ranging from installation and battery-life problems to Wi-Fi and 3G connectivity issues with iPhone and iPad, besides introducing a handful of performance problems on devices running the new update.
Battery Life Problems
Battery life problems have for long been affecting iOS users with every subsequent update and iOS 8.1.3 seems no different, as several users have reportedly complained via Twitter about reduced battery life performance with the latest iOS update.
Here are a few recent tweets depicting various battery issues reported by iOS 8.1.3 users: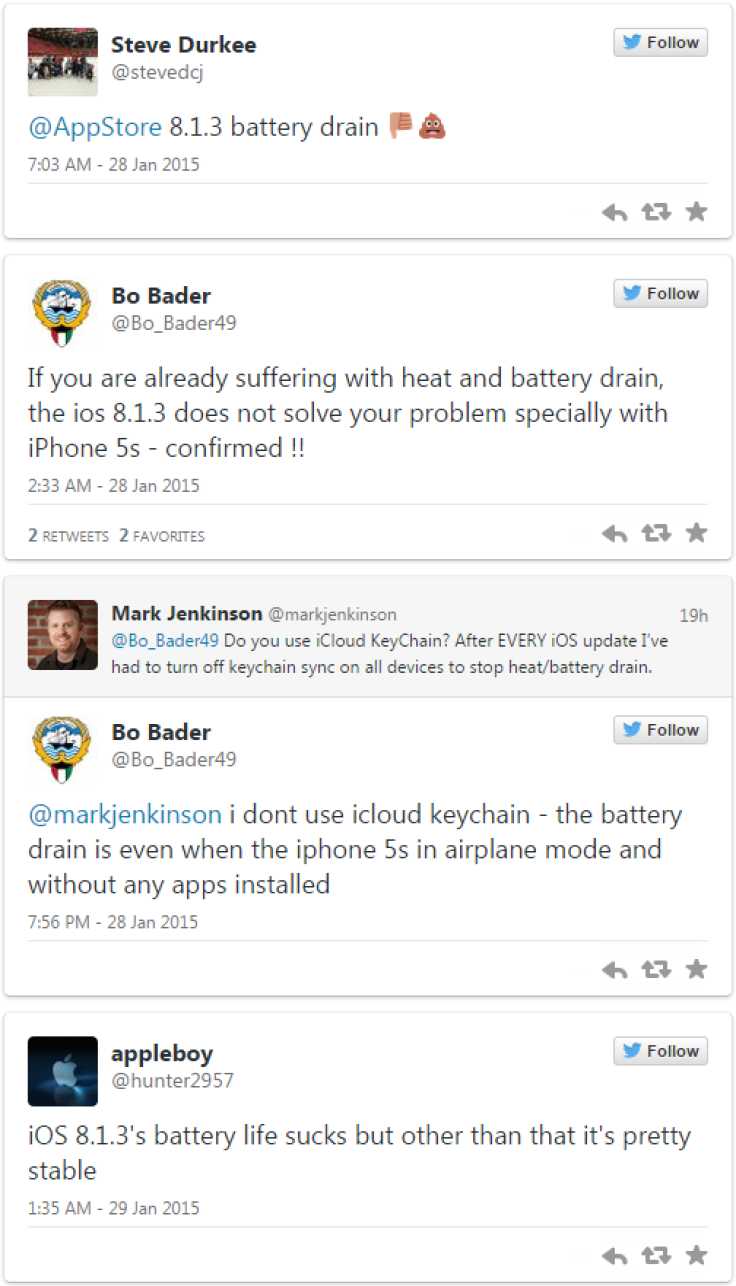 If you are one of the affected users, here are a few simple steps you could take to resolve the issue.
a) Isolate and remove battery draining apps
Shortlist all those third-party apps on your iPhone and iPad which tend to drain the device's battery charge much quicker than others.
Try disabling or uninstalling unused and problematic apps one by one to improve battery life of the device. You could use the integrated battery life usage tool in iOS 8 to accomplish this task: go to Settings > General > Usage > Battery Usage.
b) Disable iCloud Keychain
It is ascertained that some iPhone users have been successful in resolving the battery drain issue by disabling iCloud Keychain feature via Settings > iCloud > Keychain and then Toggle iCloud Keychain off.
c) Turn off background app refresh
Background app refresh is a feature which allows users to run app updates without user consent and as it is known to drain too much battery for each individual app, it is advisable to turn off this feature for unused apps to save battery charge.
d) Disable Auto Brightness
Disabling Auto Brightness feature is one of the quickest ways to reduce the rate of battery drain on your phone, as the sensors are tuned to automatically boost the screen brightness to unnecessary high levels when the feature is turned on.
To do so, go to Settings > Display and Brightness > Auto Brightness and toggle the switch Off.
You can now manually adjust the screen brightness based on the ambient light condition and thereby improve the device's overall battery life.
e) Restart, Reset or Restore
Alternatively, try restarting or resetting your iPhone or iPad by going to Settings > General > Reset > Reset All Settings.
If all else fails try restoring the iOS 8.1.3 update via iTunes or downgrade to the previous firmware, iOS 8.1.2.
If you have exhausted all the steps outlined in this guide and still face battery drain issue then you may need to get your device replaced via Apple Genius Bar.
iOS 8.1.3 Installation Problems
If your iPhone or iPad gets stuck at any point during the iOS 8.1.3 installation process, the simplest fix involves hard resetting your device by pressing and holding Power and Home buttons together for a few seconds until the device reboots.
Wi-Fi Issues
Several user complaints about ensuing Wi-Fi problems with iOS 8.1.3 have been circulating on Apple discussion forums recently.
If you are among the affected users you could try the simplest known fix of resetting network settings as follows: Go to > Settings > General > Reset and tap on Reset Network Settings.
3G Data Issues
All those users afflicted with 3G data issues can go ahead and try toggling the Cellular Data switch On or Off.
To do so, navigate to Cellular > Cellular Data and Toggle Off and then toggle it back On.
Alternatively, try flipping the Airplane Mode switch on, wait for 30 seconds and then turn it off. This procedure is also known to reset the network data settings, resolving the issue.
Bluetooth Problems
Bluetooth problems have reportedly resurfaced with the release of iOS 8.1.3 as has been the case with every recent update.
The biggest fix for resolving Bluetooth issues involves resetting the device via Settings >General > Reset > Reset All Settings.
App Performance Issues
Several app performance issues have been frequently patched up with subsequent updates in iOS 8 and hence it is imperative to ensure that all native as well as third-party apps installed on the device are running the latest updates from the developer.
To ensure automatic updates are enabled on the device, go to Settings > iTunes & App Store and then Toggle Updates on.
If nothing else works, you could try erasing all content and settings on the device by navigating to Settings > General > Reset > Erase All Content and Settings.
[Source: GottaBeMobile]
© Copyright IBTimes 2023. All rights reserved.