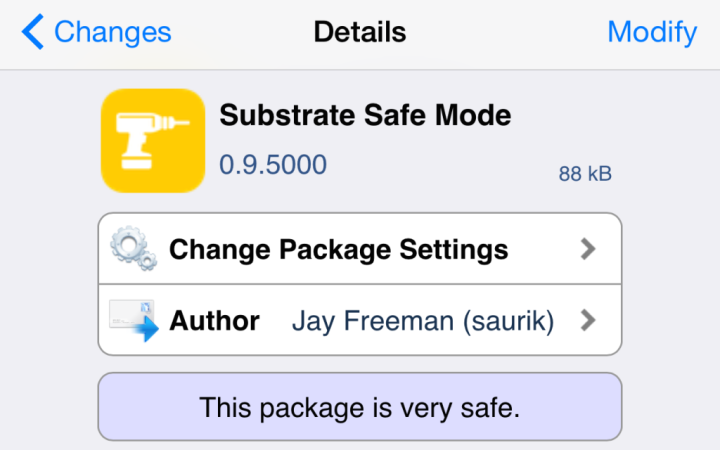 Jay Freeman (aka Saurik) has just rolled out the latest Substrate Safe Mode (v0.9.5000) with bug-fix update for CPU usage issues in iOS 8 jailbroken devices via Cydia.
The update allows jailbreakers to boot safely into Safe Mode and remove unwanted or incompatible Cydia packages on their jailbroken devices running on iOS 8.
As iDownloadBlog reports, Substrate Safe Mode allows you to boot your jailbroken device without loading certain extensions, and thereby helps in troubleshooting problematic third-party extensions that are installed through Cydia app.

The latest Substrate Safe Mode update addresses an issue in iOS 8, wherein the SpringBoard consumes 100% of processor resources while in Safe Mode.
Consequently, affected iOS 8 jailbroken devices may exhibit one or more of the following issues: overheating, battery drain and overall poor performance.
Given the nature of these issues, iOS 8 jailbreakers are advised to install latest Substrate Safe Mode (v0.9.5000) update via default Cydia repo, as soon as possible.
Once the update is installed, try opening the Cydia and perform a refresh for the changes to take effect.
Please let us know in the comments section (below) if you are facing such CPU usage issues in Safe Mode on any of your iOS 8 jailbroken device.