There is good news for the jailbreak community, as the Chinese jailbreak developer, PanguTeam, recently confirmed that they have already started working on the highly-anticipated iOS 8 jailbreak.
It is now safe to believe that the iOS 8 jailbreak could arrive sooner than expected, and avid iOS fans could now make the big decision of installing the new iOS upgrade on their iPhones, iPads and iPod Touches with the assurance of receiving a new jailbreak in near future.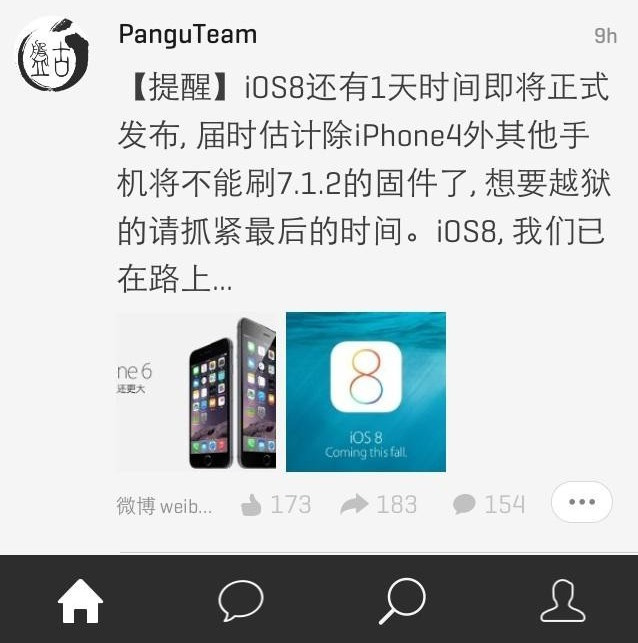 Here is what the PanguTeam had to say on Chinese Social Networking site Weibo (Google Translated):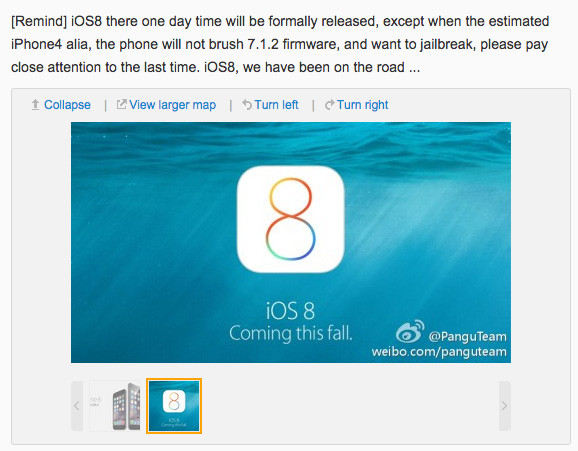 The message in the screenshot above has been literally machine translated, which clearly suggests that the PanguTeam has been busy with the development of iOS 8 jailberak.
Though there is no word from PanguTeam on the estimated release date or a probable release window for the highly-anticipated iOS 8 jailbreak, history suggests that the next jailbreak could be less than a couple of months away as the first iOS 7 jailbreak arrived three months after the update was released by Apple.
As iDownloadBlog notes, iOS 8 is heralded as the most-open iOS release ever released by Apple, given its support for third-party apps such as Touch ID, widget packs and add-ons or extensions.
It is said that some of these third-party tweaks and apps could be detrimental to jailbreak community as they may cause compatibility issues with jailbreaks.