Apple is expected to roll out the highly-anticipated iOS 8 update on its iPhone, iPad and iPod Touch devices on 17 September, while the discerning jailbreak community is pondering the feasibility of installing the next major upgrade to iOS amid looming threat of losing all existing jailbreak tweaks apps with the upgrade.
Several veteran security researchers and iOS hackers have already clarified that a bunch of exploits used in pangu jailbreak for iOS 7.1.x are still unpatched in iOS 8 beta releases, which means Apple might just patch up the existing exploits in time for the Final release on 17 September.
As iPhone Hacks reports, veteran iOS hacker and jailbreaker Stefan Esser (aka i0n1c) has reiterated that he will be patching his iOS 7.1.1 jailbreak (aka Cyberelevat0r) in order to make it compatible with the impending iOS 8 Final release.
There is still no word on a probable release date for iOS 8 jailbreak from evasi0n Dream Team or other members of the jailbreak community.
Nevertheless, i0n1c had this to say on Twitter in response to fan queries about the impending iOS 8 jailbreak: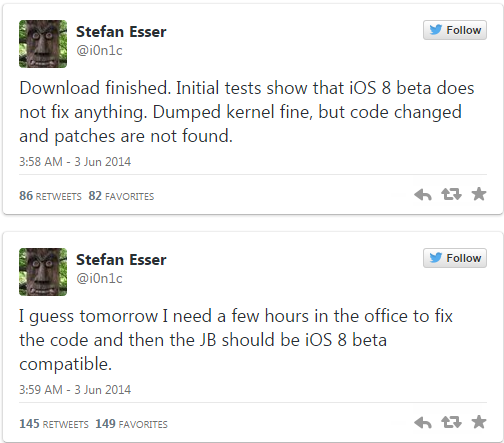 Meanwhile, jailbreak developers and geeks are busy unearthing new exploits and tools in their bid to unleash the highly-anticipated iOS 8 jailbreak in the next few weeks.
Earlier in June, BlackGeek of Geeksn0w (iOS 7.1.1 tethered jailbreak for iPhone 4) fame had teased an unofficial version of Pangu and claimed that it works with iOS 8.
He later revealed his plans of unleashing an unofficial jailbreak for iOS 8 beta which unfortunately did not materialise for some reason.
Along similar lines, another avid jailbreaker with the Reddit tag 'w0rldello' had claimed to have successfully jailbroken iOS 8 after patching the Pangu 1.2.x binary.
To strengthen his claims, the Redditor had also released a couple of screenshots depicting the Pangu app icon with redesigned iOS 8 Control Center, besides the pangu app showing an iPhone 5s running iOS 8.
In related news, it has been ascertained that Apple has patched up several security loopholes in iOS 8 GM including backdoor surveillance and forensics vulnerabilities as reported by iPhone jailbreak expert and forensic scientist, Jonathan Zdziarski.
The security patch also addresses privacy issues with network packet sniffer and File Relay to prevent theft of private data from your iOS device.
Meanwhile, both evad3rs and Pangu jailbreak team have remained silent about the impending iOS 8 jailbreak release details as they patiently wait for Apple to unleash iOS 8 Final in the next few hours.
Avid jailbreakers and iOS fans are advised to update their device to the latest version or iOS 7.1.2, which is still jailbreakable via Pangu.
This is an important step for jailbreakers as Apple is likely to stop signing iOS 7.1.2 files following the release of iOS 8 to prevent users from downgrading back to iOS 7.1.2.