Apple has recently announced that it would be releasing the latest version of its mobile operating system, iOS 8, on 17 September at various timings across different time zones in the US, Asia and Europe.
iOS fans would be eagerly anticipating the release of iOS 8 update on their iPhones, iPads and iPod Touches for the next few hours as Apple starts rolling out the update via Over-the-air (OTA) as well as through desktop iTunes app.
Check out the approximate release times for iOS 8 in US, Europe and Asia below:
US: Pacific 10:00am, Mountain 11:00am, Central 12:00pm and Eastern 1:00pm
Europe: GMT 5:00pm, BST 6:00pm, Central European 7:00pm, Eastern European 8:00pm
Asia: Hong Kong 1:00am (19 Sept), China 1:00am (19 Sept), Korea 2:00am (19 Sept) and Japan 2:00am (19 Sept).
Take a look at the worldwide release time for iOS 8 in the chart below: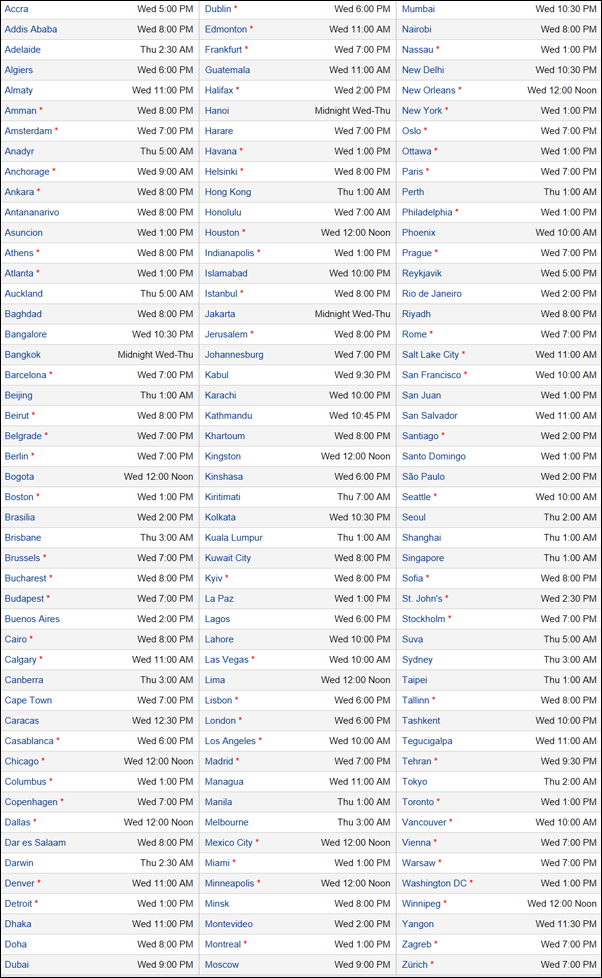 How to Prepare and Install iOS 8 Final Release on iPhone, iPad or iPod Touch
Here are a few important steps you need to follow in order to enjoy a smooth and hassle-free upgrade to iOS 8:
Check Device Compatibility
iOS 8 Final release will be available on a bunch of devices, which are listed below:
iPhone 4s
iPhone 5
iPhone 5c
iPhone 5s
iPad 2
iPad 3
iPad 4
iPad Air
iPad mini
iPad mini with Retina display
iPod touch 5th generation
Prospective iOS 8 users could follow any of the two methods below, depending on whether they wish to use the manual method of installation with direct links or via OTA update.
1. Using the OTA method
After you have ensured that your device is featured in the compatibility list, it is time to free up some storage space and backup your important data via iTunes or iCloud.
a) Free up Storage Space
Ensure that you have at least 4GB of free storage space left on your device for iOS 8 installation as this is part of minimum system requirements for the new upgrade.
It is advisable to uninstall rarely used apps and delete unwanted user content from the device to free up necessary space for iOS 8.
b) How to Backup via iCloud
Go to Settings > iCloud > Storage and Backup and toggle the iCloud Backup button to On.
Once the iCloud Backup option is enabled, you will see a prompt saying "Back up Now". Hit the Backup button and wait until the process completes as the backup time depends on the content file size stored on your device.
c) How to Backup via iTunes
Connect the iPhone or iPad to PC or Mac via USB cable and launch iTunes app.
Choose the option "This Computer" under the Backups section of iTunes
Hit the Backup Now button and wait until process completes.
d) Wait for OTA Update or Check for Update Manually
If for some reason, the OTA update notification does not pop-up on your device then you can check for the update manually by going to Settings > General > Software Update.
2. Clean Install via Direct Download Links
UPDATE: iOS 8 direct download links are now live... (Use the links below)

iPad Air (5th generation WiFi + Cellular)
iPad Air (5th generation WiFi)
iPad 3 Wi-Fi + Cellular (model for ATT)
iPad 3 Wi-Fi + Cellular (model for Verizon)
Follow the exact same steps outlined for OTA update to check device compatibility and backup important data via iTunes or iCloud.
Then restore your device to iOS 8 following its release on 17 September as follows:
Connect your iPhone or iPad to iTunes on your PC or Mac.
Download the appropriate IPSW file for your device (using links above) and Restore (NOT update) your device to the latest firmware via iTunes: hold Alt key (on Mac) or Shift key on Windows and click Restore iPhone button. iTunes will prompt you to select the desired .IPSW file for iOS 8 installation and you just need to select it.
Note: Latest version of iTunes (v11.4) for Windows or Mac can be downloaded from here.
Tip #1: those who have jailbroken their device on iOS 7 must ensure that they have updated their device to the latest version or iOS 7.1.2 with Pangu jailbreak installed on it.
Tip #2: Also, it is advisable that you stay away from automatic iTunes syncing and disable OTA updates on your device if you do not wish risking your prized jailbreak apps and tools.
Tip #3: There is no working jailbreak for iOS 8 yet and hence you should be wary of inadvertently updating your device.
[Source: Redmond Pie]