Apple has unveiled its latest mobile operating system at its annual Worldwide Developers Conference (WWDC), introducing brand new apps and features like HealthKit, QuickType and the iCloud Photo Library.
iOS 8 is available immediately for iOS developers but won't be available for consumers until some time in the autumn. Until then you can find out everything you need to know here, as IBTimes UK takes a look at what Apple claims is "the biggest release since the launch of the App Store".
---
What devices support iOS 8?
---
iOS 8 can be installed as a free software update for iPhone 4s, iPhone 5, iPhone 5c, iPhone 5s, iPod touch 5th generation, iPad 2, iPad with Retina display, iPad Air, iPad mini and iPad mini with Retina display. According to Apple, some features may not be available in all regions or all languages.
---
HealthKit and Health App
---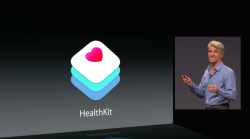 The headline feature of iOS 8 is its hotly anticipated health and fitness platform called HealthKit and the Health app, a centralised location for collecting fitness and medical data that is capable of integrating information from third-party apps and devices like the Jawbone Up fitness band and Nike's running apps.
Apple will be working with the Mayo Clinic and other health organisations to allow users' data to be sent to healthcare providers in order to simplify and improve check-ups. According to Apple, strong privacy protections have been put in place to prevent sensitive data from being lost or stolen.
---
Improved Maps
---
Apple's beleaguered Maps app has experienced a number of high-profile teething problems in the past, however Apple has sought to right these with a new and improved version.
A new vector based maps system includes improvements to its turn-by-turn direction system and comprehensive weather data.
---
QuickType and third-party keyboards
---
New predictive typing through Apple's QuickType keyboard is able to learn from a user's activity in order to personalise autocompletion, depending on the recipient of a message. It also includes access to special layouts and character sets, as well as the ability to install third-party keyboards.
This will be a welcome addition for Apple customers who have so far missed out on useful typing aids like Swype.
---
Home automation
---
HomeKit is a platform that lets smart home accessories "connect seamlessly to better manage your home."
Working as a common protocol, it includes secure pairing and the ability to easily control individual or groups of devices throughout the house, including integration with Siri.
Partners already onboard include Phillips, Kwikset and Honeywell.

---
Interactive notifications
---
Apple is offering "actionable notifications" in its latest iOS, meaning that users can respond to messages and interact on social media without having to switch apps.
The hope is to streamline the user experience and make devices feel less cluttered and overwhelming when there are numerous apps carrying multiple conversations.
An example of this could be someone using the Maps app and receiving a Facebook message. Rather than switching to the Facebook app, the user can simply slide down the notification and reply from within th Maps app.
---
iCloud Photo Library
---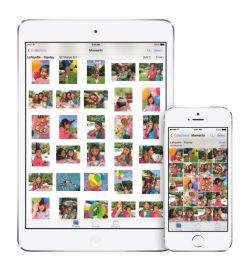 In iOS 8, the Photos app and iCloud Photo Library give users access to all of their photos and videos at anytime, across any device through iCloud Drive.
Any editting done to photos, such as automatic horizon straightening and light and colour adjustments, will automatically update across all connected devices through the iCloud Photo Library.
The inclusion of such a feature seems to be Apple's attempts to create software akin to Google's Drive and file-sharing platform Dropbox.
Just like Dropbox's recently released Carousel app, iCloud Drive brings the ability to sync files with a single account across multiple devices.
---
Family friendly
---
Households that own more than one Apple device will now benefit from the Family Sharing feature that shares purchases, photos and calendars with up to six family members or friends.
iTunes, iBooks and App Store purchases can all be browsed and downloaded by those in the group and there is even an option for locating lost family members through their devices.
---
Release Date
---
Apple has released the beta version of iOS 8 today to developers, along with the Software Development Kit (SDK), to allow them include all the new features in their apps ahead of the consumer launch, which will happen this autumn.
Apple is set to launch the iPhone 6 in September, and the release of this larger screen iPhone will likely coincide with the launch of iOS 8.