Apple has just seeded iOS 7 Golden Master (GM) to developers. The GM is the final version of iOS 7 before the update is released to the public on 18 September.
The iOS 7 GM with build version 11A465 is currently available to all registered app developers through Apple's dev center. It should be noted that users cannot perform an Over-The-Air (OTA) update to a GM from iOS 7 beta releases. The update must be performed via Dev Center.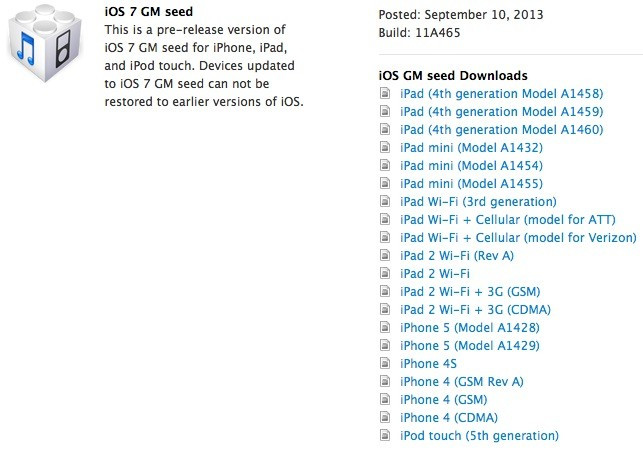 The update is available for iPhone 5, iPhone 4S, iPhone 4, iPad 4, iPad 3, iPad 2, iPad Mini and iPod Touch 5. As for new features, the GM build brings new ringtones and alert sounds, new charge sound, new Siri mic sound and 34 new Apple wallpapers, notes iDownloadBlog.
Not only developers, the non-developers can also update their devices to iOS 7 GM firmware without a registered developer UDID. Besides, iOS hacker, Steven De Franco who is commonly known as iH8sn0w confirmed via Twitter that there is no expiry date for the GM seed since it is basically the public release.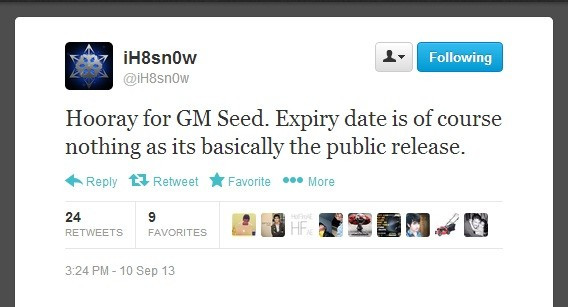 However, there are some important reasons not to install iOS 7 GM (Courtesy of iClarified).
1) Those who are non-developers (not registered developers) should not install the GM version. It would be technically illegal to distribute and use the iOS 7 GM firmware file as it is copyrighted.
2) The iOS users who are looking for a jailbreak, should never update to a newer iOS until its publicly jailbreakable. There is no downgrade from iOS 7 to iOS 6 on newer devices (this is once Apple stops signing iOS 6.1.4/6.1.3).
3) If developer Wincom were to release jailbreak, it would be compatible for iOS 6.1.x, therefore, users on iOS 7 would not be able to experience the jailbreak. Besides, there is no information as of now if Wincom is planning to release a tool for the full jailbreak as some exploits are not publicly available.
4) The developers are still working on their iOS 7 ready apps, hence, if a device is updated to the GM seed, some apps could still be broken unless the developers release update (which is likely to come with the public release).
5) Users who do not wish to jailbreak their devices are still recommended to wait until 18 September for the official release of iOS 7 firmware.
Also read- iTunes 11.1 Kills Custom IPSWs for iOS 7, Claims Hacker