Stefan Esser (aka i0n1c) recently tweeted that someone close to the evad3rs team had stolen some jailbreak exploits and sold it to a private buyer. Though the allegation of theft could hinder the progress of iOS 7 jailbreak development by the evad3rs Dream Team, the tweeted message does not reveal if i0n1c is actually talking about iOS 7 jailbreak.
The rumour should be taken with a pinch of salt as i0n1c has been accused of being notorious with trolling the jailbreak community in the past. As the internet went abuzz with news of stolen jailbreak exploits, iDesignTimes contacted Cyril Cattiaux (aka pod2g), who quickly rubbished the claim as "complete bullshit".
Here is what i0n1c tweeted while defending his claim about the stolen jailbreak exploits from evad3rs: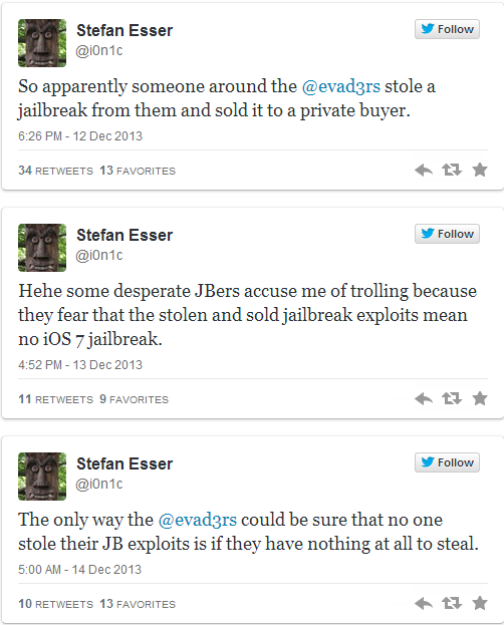 Despite the slow progress of iOS 7 jailbreak development and the rising anxiety among the jailbreak community, pod2g sounds positive about the impending release of the next jailbreak. Here is what the veteran hacker tweeted in response to the i0n1c's claim:
"That's complete bullsh--," adding that "the jailbreak stuff is moving on, but slowly."
As iDesignTimes notes, the impending iOS 7 jailbreak release could happen at the earliest in December 2013 or by February 2014. The free public release of iOS 7 jailbreak is definitely on the cards as the rumour seems to be just another prank to trick the unsuspecting jailbreak community.