Apple iPad mini 3 Key Features
7.9in display (2048 x 1536).
iOS 8.1.
Touch ID.
A7 processor.
16, 64, 128GB storage.
4G option available.
200 x 134.7 x 7.5mm and 341g.
Price as reviewed: £659 (4G, 128GB, Space Grey).
Apple iPad mini 3 Review
The third generation iPad mini adds a Touch ID fingerprint scanner and gold colour option to what was already one of the very best small tablets on the market. But with the first- and second-generation models still for sale - and at reduced prices - has Apple done enough to convince us that three really is the magic number?
---
Apple iPad mini 3: Design
---
Apart from the Touch ID sensor taking up residence on the Home button, the iPad mini 3 is absolutely identical to the mini 2 from a year ago. It has the same aluminium body, the same glass-covered 7.9in Retina display and it's the same size and weight (200 x 134.7 x 7.5mm and 341g).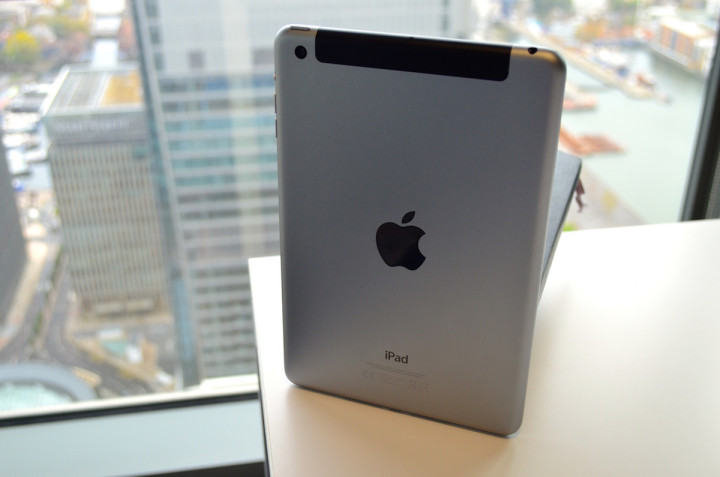 This means it's a tablet that can be held fairly comfortably in one hand, although anyone upgrading from the original mini (like me) will notice that it and the mini 2 are 22g heavier and a fraction thicker than the original.
Fashion-conscious readers will be pleased to know the iPad mini 3 adds gold to its silver and 'Space Grey' colour options, matching the iPhone 6 and 6 Plus.
The iPad mini 3 is undeniably a beautiful tablet with class-leading build quality, but I wouldn't blame fans of smaller tablets for feeling shortchanged after seeing the effort Apple has putting into slimming down the iPad Air 2.
---
Apple iPad mini 3: Screen
---
It's much the same story with the mini 3's screen. While Apple has introduced a laminated display on the iPad Air 2, helping to make the tablet thinner and lighter, the mini 3 has to make do with a small air gap between the glass front and the display panel itself.
It's a small and barely noticeable complaint, but is nevertheless another example of Apple favouring its larger tablet, instead of giving consumers the best possible product whichever size they choose.

That being said, the mini 3 still has a great screen. It measures 7.9in from corner to corner and has a resolution of 2048 x 1536, producing a pixel density of 326 per inch. This is identical to the mini 2, but a sizeable improvement on the original model, which was just 1024 x 768 and 163 pixels per inch.
It's much brighter, sharper and more accurate than the original, but doesn't lead the market in the same way the first full-size Retina iPads did a couple of years ago. Tablets from Sony and Samsung offer a similar visual experience to the mini 3, so it's a shame Apple didn't do something (with either resolution or thinness) to move the game on.
---
Apple iPad mini 3: Software and Performance
---
Last year's A7 processor from the iPad mini 2 and iPhone 5s makes a return for the mini 3, and although it's more than 12 months old now it has no problems running Apple's new iOS 8.1 software.
The UI itself is quick and smooth, while intensive apps and 3D games, such as Real Racing 3, open quickly. It's exactly the same as using the mini 2, but owners of the original small Apple tab will immediately feel the difference.
It doesn't quite have the punch of the A8 and A8X chips used to drive the iPhone 6 and iPad Air 2 respectively, but the A7 is still no slouch. Storage options mimic the iPhone lineup, with 16, 64 or 128GB to choose from.
I wish Apple had ditched the smallest instead of the mid-range 32GB, as leaving the 16 option stinks of the company bullying consumers into forking out £80 for a reasonable amount of storage.
The fitness-tracking Health app from iOS 8 on the iPhone range is not present on either of the new iPads; otherwise the experience is just about identical to using the iPhone 6 Plus.
Battery life is as good as ever, with a weekend of use being no problem; for context, an hour of Netflix streaming at 50% screen brightness took 10% from the battery.
---
Apple iPad mini 3: Touch ID
---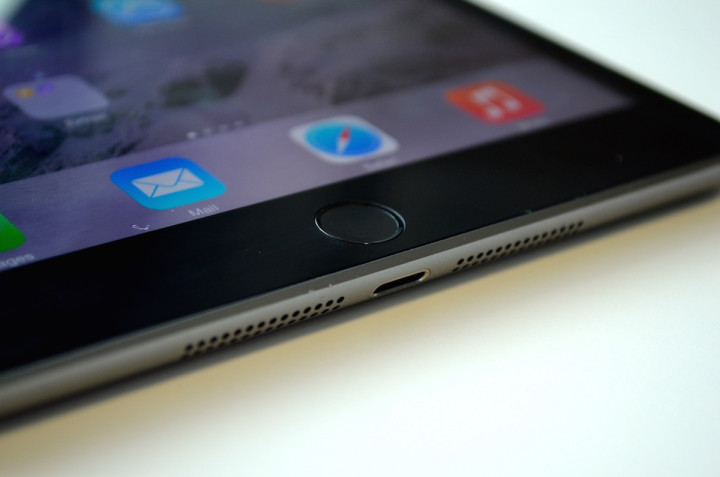 The only update, aside from the gold colour option, is Touch ID. Up to five fingerprints can be registered with each iPad – these can be from both hands and multiple people if you so wish. Simply place your digit on the home button and the iPad will unlock; there's no more need to enter your PIN or password, and Touch ID can also be used to buy content from the iTunes and App stores.
A US-only feature for now is Apple Pay, which lets you make payments using Touch ID, although for the iPad it only works online, whereas by using NFC the iPhone 6 and 6 Plus can make Apple Pay purchases in physical shops too.
It's a neat feature and works well - although not when your fingers or the Home button are wet - and is more secure than entering a PIN in front of prying eyes on a packed train.
---
Apple iPad mini 3: Camera
---
I've never understood why anyone would use a tablet for taking photos, but at least the option is there for those who want it.
The 5-megapixel rear and 1.2mp front cameras are decent enough in good light, and both are very fast at snapping photos; there's also auto focus, face detection, a HDR mode and the ability to take panoramic shots, but for most situations your smartphone will perform better.
---
Apple iPad mini 3: Value and Verdict
---
Here's the sticking point with the iPad mini 3. The cheapest 16GB Wi-Fi model costs £319, but the equivalent mini 2 costs just £239; unless Touch ID and a gold or silver colour option (mini 2 is Space Grey only) are crucial to you, then I simply can't recommend the mini 3.
It's also pertinent to consider that the range of iPad Air 2 pricing overlaps considerably with iPad mini 3 pricing, meaning you could easily settle for the larger flagship if it suits your budget.
If lots of storage is important then the mini 3 becomes more attractive, due to the mini 2 only running to 32GB (£279), where the new model offers 64GB (£399) and 128GB (£479). In all cases a SIM card slot and 4G connectivity adds an extra £100.
Where last year consumers need only have chosen from screen size (iPad Air or mini), safe in the knowledge that both tablets were otherwise identical, now the mini has become a second class citizen.
I don't see why Apple should offer a lesser product to those who want a smaller screen, but that's exactly what it has done.
Apple iPad mini 3 Scores

Screen: 9/10 - Bright, sharp and the perfect size for a small tablet, but not as high-res as some.
Design: 8/10 - Not as thin and light as 1st gen, which is strange given Apple's slim obsession with the Air 2.
Performance: 8/10 - Exactly the same as last year's model; an upgrade would have been welcome.
Value: 6/10 - Unless mass storage and Touch ID are vital to you, the iPad mini 2 is much better value.
Software: 9/10 - Attractive, intuitive and faster than ever, iOS 8 is Apple's best tablet software yet.
Overall: 7/10 - Money-no-object, it's a great tablet, but the very minor updates over last year are disappointing.
The Good:
Excellent screen.
Attractive and intuitive software.
Huge tablet-optimised app store.
The Bad:
Expensive.
A very small update.
Feels inferior to the Air 2.