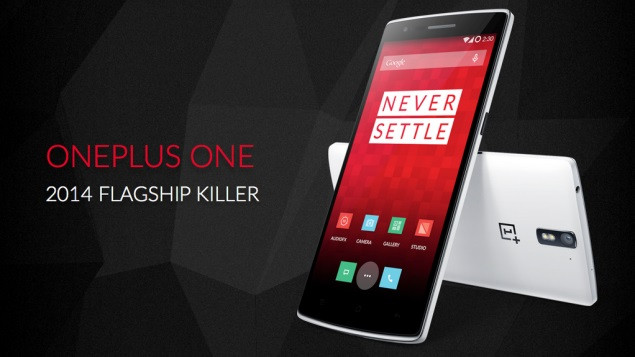 Over the last few days, we've been comparing the OnePlus One, a powerful yet affordable smartphone, with Android heavy weights like the Samsung Galaxy S5, the HTC One M8, LG Google Nexus 5 and the Sony Xperia Z2. Today, we compare the handset's specifications and features with Apple's latest and greatest smartphone yet, the iPhone 5S.
Design
Apple's smartphone starts off with a strong advantage over the OnePlus One in the design category. The iPhone 5S is easier to hold and use when compared to most Android smartphones given its compact size. It feels expensive and premium in the hand owing to its solid aluminium back and metal frame with chamfered edges.
Talking about the OnePlus One's design, the handset boasts good build quality. However, it does not feel expensive by virtue of its plastic body. Owing to the fact that it has a large screen (5.5 inches), the OnePlus One might be a handful for most unless they are fans of phones from Samsung's Galaxy Note series.
Winner: iPhone 5S. Apple has incorporated one of the most celebrated smartphone designs into the iPhone 5S, so it comes as no surprise that the handset comes out on top in this category.
Display
Moving on to displays, the iPhone uses a 4.0 inch LED-backlit IPS LCD which offers vibrant colours and crisp visuals. It has a resolution of 640 x 1136 pixels and a pixel density of 326 ppi.
The OnePlus One has a much bigger 5.5 inch IPS LCD with a resolution of 1080 x 1920 pixels and a powerful pixel density of 401 ppi.
Winner: Tie. Both smartphones offer powerful displays and users will be hard pressed to find differences in quality between them. It comes down to how big a screen you want at the end of the day.
Hardware
The OnePlus One, being the younger of the two handsets, packs newer hardware. It uses the latest quad-core Snapdragon 801 processor clocked at 2.5 GHz along with an Adreno 330 GPU, resulting in amazing benchmarks and stellar performance. It also touts 3GB of RAM that will allow it to complete any task that you throw at it with ease.
Apple's iPhone 5S packs the company's powerful A7 chipset which offers stellar smartphone performance. Also worth noting is that Apple has future proofed its handset by adding a 64-bit architecture, meaning that iPhone 5S users will have no problems running apps of the next two years. As apps and systems get more powerful and intensive, your smartphone is going to require a 64-bit architecture to handle them better.
Another noteworthy mention happens to be Apple's M7 "motion coprocessor" which is probably more interesting than the A7 itself. It is designed to garner data from the handset's accelerometer, gyroscope, compass and more. This data is then used to understand the state of your phone without using up battery life. What does this mean? The phone knows what you are doing, be it driving, sleeping or anything else. Owing to this, it will automatically perform tasks and actions to make things more convenient for you.
And then comes Apple's Touch ID fingerprint sensor, which offers a new level of security if you want it.
Winner: Apple iPhone 5S. Despite being the older horse in the race, Apple's futureproofing on the iPhone 5S will allow it to stay relevant in the coming years. However, if you're looking for just the basics, the OnePlus One has a slight edge over the iPhone.
Imaging
The OnePlus One snaps solid images with a 13MP Sony Exmor RS sensor that is combined with a 6 parts lens with an f/2.0 aperture, and dual LED flash. It can shoot 2160p video. Up front, there's a 5MP front facing camera as well for best-in-class selfies.
Don't be fooled by its 8MP rear sensor, the Apple iPhone 5S is still one of the most powerful and practical smartphone cameras out there. It clicks quick pictures, shoots decent images in dark situations and has an improved front facing camera when compared to the iPhone 5. Thanks to the phone's advanced processing, it can also shoot slow-mo video among other things.
Winner: OnePlus One
Software
In this category, it clearly becomes a matter of personal preference. Does Apple's high quality, visually gorgeous, tight-leashed approach work for you? Or would you like the unlimited freedom that Android offers its users?
Winner: Tie
Overall
While Apple's iPhone 5S has been awarded the smartphone crown by many experts, the OnePlus One is still a great option given that it offers powerful hardware at an affordable price point.