Nexus 5 vs OnePlus One: Which One is the Best Smartphone Under £350?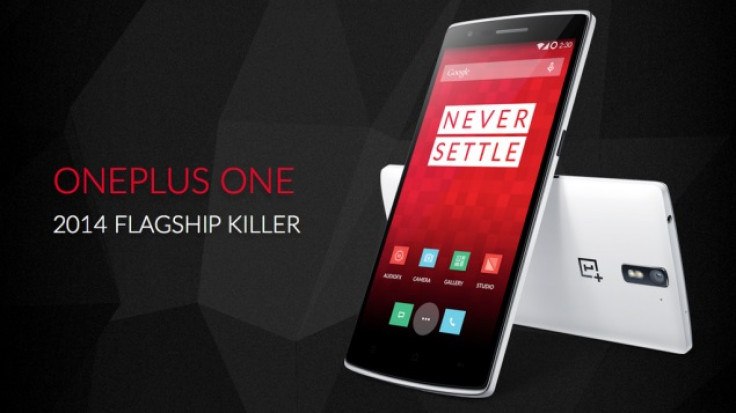 A few days ago, Startup OnePlus revealed its first smartphone, which came with a small price tag and an even smaller name, the 'One.' Ever since its launch in late 2013, the LG Google Nexus 5 has been called one of the most powerful Android smartphones on a budget.
Let's compare the two smartphones to understand which one is the better buy in the sub £350 category.
Design
Neither of the handsets use metal, nor do they feel cheap. While they aren't the most good looking phones out there, it's fair to say that both these Android smartphones are well built.
Talking about dimensions, the One is 153mm tall, which happens to be a good deal longer than the 134mm Nexus 5. While the Nexus 5 will fit into your pocket with ease, the OnePlus One won't enjoy a snug fit, and will often poke out of your pocket. The One's height comes from the fact that it uses a 5.5 inch screen, unlike the Nexus 5's smaller 5 inch screen.
Apart from being a little shorter and more compact, the Nexus 5 also happens to be the lighter of the two at 130g, as opposed to the slightly heavier 160g One.
Winner: This round happens to be a tie since size has become more of a preference these days. But it goes without saying that the Nexus 5 will be easier to hold and pocket.
Display
The OnePlus One (5.5 inch display) offers much more screen real estate than the Nexus 5 (5 inch display). While it might not sound like much on paper, it will be rather noticeable when you hold both phones.
Both phones have a 1080p LCD but the Nexus 5 has a greater pixel density at 445 ppi. The One has a pixel density of 401 ppi. However, they shouldn't be much of a difference when used.
Winner: Tie, unless you think bigger is better.
Specs
A round where the One beats the Nexus 5 with ease since LG's phone uses slightly older hardware.
While the Nexus 5 uses a powerful Snapdragon 800 CPU, the One features a more advanced 801 CPU, which will make a significant difference when benchmarks are concerned.
Apart from this, the One also enjoys more memory, since its 3GB of RAM easily dwarfs the 2GB of RAM on the Nexus 5.
Winner: OnePlus One
Software
While both phones use software that is based on Android 4.4 Kitkat, there is one key difference. The Nexus 5 features a stock version (with the Google Experience UI), while the One uses Cyanogenmod's take on the Android experience.
While both versions of Android are fast and powerful performers, it is worth noting that Cyanogenmod offers users more control over settings and intricate features.
So Cyanogenmod should be considered if users are keen on tweaking the phone and having access to features like turning on phones with two taps and playing FLAC audio. Out-of-box in short, Cynogenmod on a high-end smartphone happens to be the dream of many power users.
However, for those who are satisfied with a simple, powerful and crisp Android experience, the Nexus 5 should be just fine.
Winner: Tie
Imaging
Another round where the One has a strong advantage. The Nexus 5 uses an 8-megapixel sensor with dual LED flash and f/2.4 lens, OIS. However, the OnePlus One tops this easily with a 13-megapixel sensor with LED flash and f/2.0 lens.
Moving on to sensor sizes, the Nexus 5 has an unimpressive 1/3.2-inch sensor, which has always been seen as one of the phone's weaknesses. The OnePlus One offers a more abundant 1/3.06-inch apart from a more powerful dual-LED flash.
Even when it comes to secondary cameras, the Nexus 5 lags behind by a mile. While it only offers a 1.3-megapixel sensor up front for substandard selfies, the OnePlus One offers a more satisfying 5-megapixel secondary camera up front.
Winner: OnePlus One
Overall
If big phones aren't your thing, then the Nexus 5 is a better pick. Yes, it might have inferior optics, slightly older processing and 1GB less RAM, but it still is one of the most high-value smartphones out there. Also worth noting is that it isn't a very fair comparison since the phone is six months old, which is half-ancient in today's racing smartphone world.
For those of you that are looking for the best specifications in terms of CPU, RAM and imaging, coupled with the versatile Cyanogenmod OS, the OnePlus One is the phone to pick. It's also significantly cheaper (£269 for a 64GB variant) than the Nexus 5, which retails at £339 for the 32GB variant.
However, a downside for some is that the OnePlus One is on the bigger side of things and won't be easy to hold or pocket when compared to handsets like the Nexus 5 and Samsung Gaalxy S5.
© Copyright IBTimes 2023. All rights reserved.