The internet is abuzz with news of iPhone 6 going up for pre-orders as dozens of Chinese vendors are reportedly taking pre-orders via Alibaba Taobao online marketplace, according to Wall Street Journal.
The report claims that some Chinese vendors are capitalising on the demand for the flagship phone by encouraging customers to place pre-orders for the same.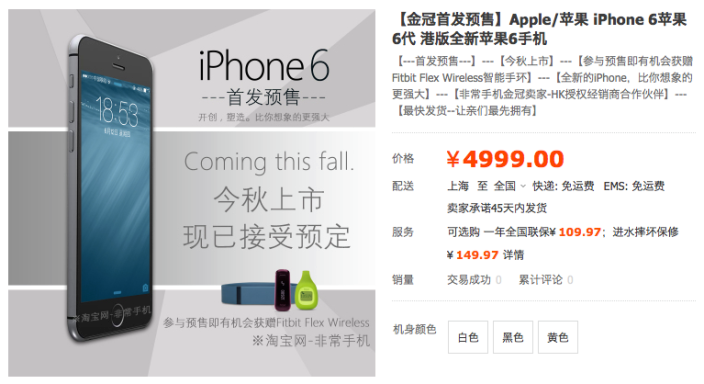 One such vendor has gone to the extent of teasing a complete mock-up with "exclusive introduction to iPhone 6" webpage along the lines of Apple's official website in English.
Check out the hilarious attempt at recreating a mock up of the iPhone 6 page on the Apple website in the screenshot below:

More than 30 other vendors are said to be using similar promotional material to advertise for iPhone 6 pre-orders from the US and Hong Kong at a deposit price ranging from 500 yuan ($80 USD) to 7,999 yuan ($1288 USD).
Apple has recently shifted its focus to China as a strategic market for growth with recent reports hinting at mass production of 70 to 80 million iPhone 6 handsets by the end of the year. Furthermore, Foxconn is reportedly hiring 100,000 new workers for the project.
The report also adds that one such seller has claimed that the iPhone 6 would release around 20 September with the unsubsidised prices for the 4.7in and 5.5in variants starting at 5,288 yuan ($851) and 5,988 yuan ($964) respectively.
WSJ notes that four customers had paid 4,999 yuan each for an iPhone 6 pre-order earlier this year, as indicated by the historical sales record of one Taobao store.