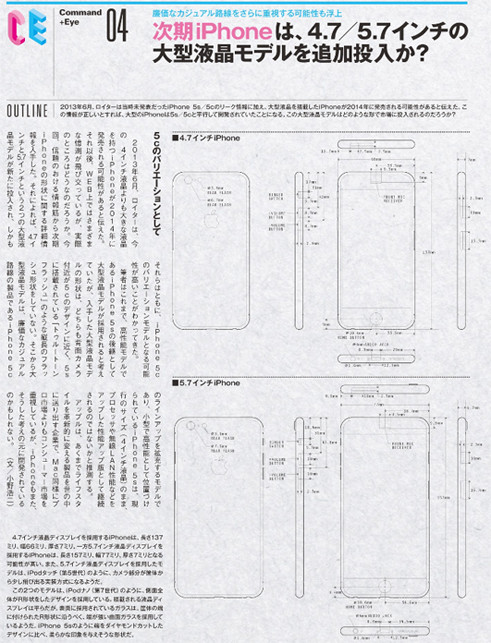 Ever since Apple launched the iPhone 5s during the end of 2013, there has been widespread speculation on what the Cupertino-based technology giant will pack into upcoming iPhones.
Over the last few months, several rumours and reports have been hinting at two different display sizes for the next iPhone. A new leak now indicates that this might just be a very strong possibility.
Almost no Bezel and Circular Buttons
Japanese MacFan has obtained a document that contains alleged schematics of the next iPhones, according to a report by PhoneArena.
The images go on to portray Apple's next smartphone with an almost bezel-less screen, and rectangle buttons, which are a contrast to the circular volume buttons on the iPhone 5s.
Dimensions
The document also goes on to list dimensions of the phones. The smaller, 4.7 inch model will be 137mm in height, 66mm wide and 7.0 mm thick. On the other hand, the larger model, with a 5.7 inch display, will be 157mm tall, 77mm wide and 6.7mm thick.
Alternate Dimensions
And then comes another image which was obtained by French publication NoWhereElse from China. It happens to offer different dimensions from the ones in the Japanese document.
It lists one handset with a shocking 85mmor 3.346 inch-wide body. How does it compare to the competition? It happens to be wider than the massive Samsung Galaxy Note 3 (79.2mm) and many other phones.
While the first leak from Japan looks like it might just be the more feasable option, the second one comes off as extremely unrealistic, since it is in stark contrast with Apple's iPhone design mantra.
It remains to be seen as to what Apple will do with its upcoming iPhones, the purported iPhone 6 and 6C.