Apple's recently launched iPhone 6 and iPhone 6 Plus are going live for pre-orders starting 8:00am BST on 12 September in the UK, while prospective iPhone 6 buyers would be eager to know their upgrade eligibility for the new iPhone.
Considering the user requirement, TUAW has crafted a simple yet helpful guide to help prospective iPhone 6 buyers in checking their upgrade eligibility status and available buying options.
Basically, there are two ways of checking your upgrade eligibility from older iPhone to new iPhone 6.
The easier way would be via Apple's website or iPhone pre-order page and the next best option would be through the carrier's web portal.
The final method employs the use of quick codes for each of the four major mobile carriers via your phone's dialer app.
How to Check Upgrade Eligibility Via Apple's Website
Go to the iPhone pre-order page on Apple's website
Choose a device and its colour or finish. This will unlock the upgrade eligibility check for you.
Now click on "Check your upgrade eligibility" link.
Choose your carrier and enter the desired information.
The status of your upgrade and all available purchase options including the cost of buying the new iPhone 6 would be displayed to you.
For instance, you may qualify for any of the following iPhone purchase options (see screenshot below) on a two-year contract with AT&T: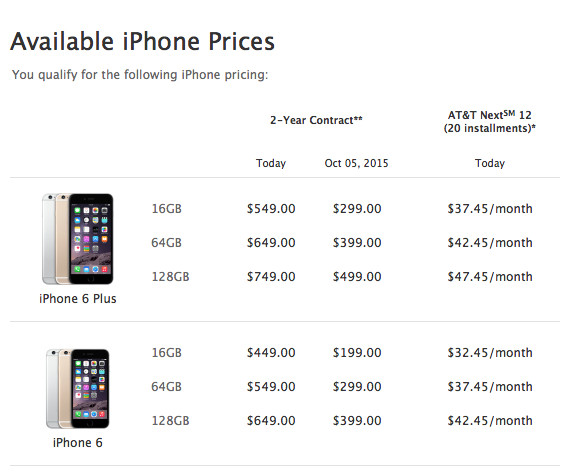 Besides, you will be notified about the estimated time for upgrade eligibility or an alternative choice of going for the monthly instalments plan.
How to Check iPhone 6 Upgrade Eligibility via Carrier Quick Codes
Users can now receive a real-time report on their upgrade status via text message from the network carrier by simply typing a quick code into their phones. The quick codes for each of the major carriers in the US are listed below:
AT&T: *639#
Sprint: 1311
T-Mobile: #874
Verizon: #874
These codes do not give you the complete picture of your eligibility status as you may see only the next available plan rather than a whole list of upgrade options at your fingertips.
Consequently, users are advised to try the Eligibility check via Apple's own site (see steps above) or through the carrier's portal (see steps below) for better results and precise information.
How to Check Upgrade Eligibility via Carrier's Portal
iPhone users may also check their eligibility status for the iPhone 6 upgrade via the carrier's online portal using an eligibility checking tool.
Here is how you do it:
Login to your carrier network account and check the eligibility via the web portals for all three carriers listed below.
Note: T-Mobile is not included in the list as it no longer offers subsidised iPhones to customers.
Avail Cash Back Offers via Trade-In Programmes
Finally, you could make use of trade-in programmes with all carriers to avail exclusive cash back offers on purchase of the new iPhone 6 in exchange for your old iPhone.
Some of the most noteworthy ones are Gazelle, NextWorth, Apple, Glyde and Amazon. Check out the resale value of your iPhone at each of these online stores by clicking on the links below.