Apple recently announced its next-generation flagship smartphone, the iPhone 5S, at its high-profile iPhone launch event held at its Cupertino headquarters in California. At the time of the launch, the company proclaimed the new iPhone would be twice as fast as the iPhone 5 and 40 times faster than the original iPhone.
In line with the company's claims, the latest graphics benchmark results indeed showed that the iPhone 5S was twice as fast as its predecessor while also trumping many of its rivals in both the off-screen and on-screen mode tests with GFXBench 2.5 Egypt HD benchmark.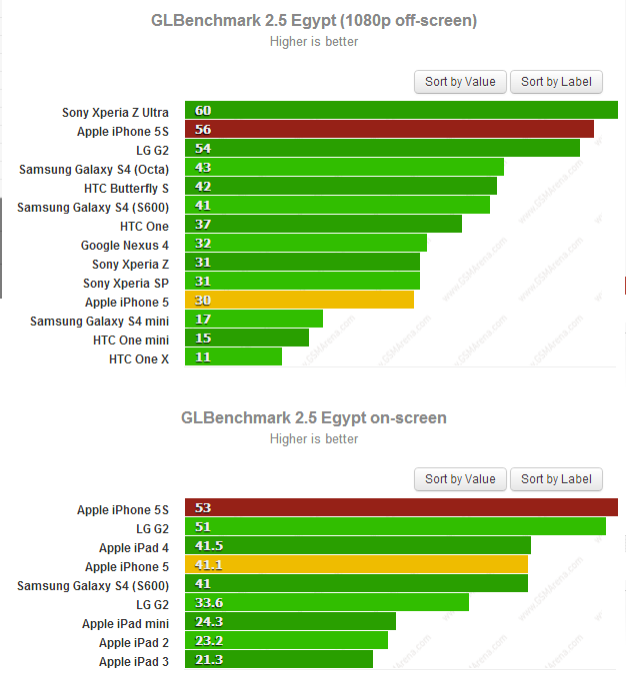 In the 1080p off-screen test, the iPhone 5S achieved a score of 56fps in contrast to 30fps for iPhone 5. The margin of performance gain for iPhone 5S (53fps) over its predecessor (41.1fps) narrows down in the on-screen test, as the benchmark hits the 60fps screen limit (owing to the older test tool which fails to stress the iPhone 5S GPU at its native 640 x 1136 pixels resolution).
Apart from the fact that new OpenGL ES 3.0 support has been added for enhanced graphics in iPhone 5S, there are no further details available about its graphics hardware. In contrast, the iPhone 5 runs on the PowerVR SGX543MP3 graphics chipset powered by an Apple A6 processor.
According to GSM Arena, Apple may actually be using a newer PowerVR GPU or a GPU with more cores or higher clock rate with the new 64-bit A7 processor chip in order to achieve this feat. Since the GFXBench test runs on the older OpenGL ES 2.0 and lacks support for OpenGL ES 3.0, the results may not show the full capabilities of Apple's new system-on-chip.
Though the latest GFXBench results strengthen Apple's claims of introducing significantly enhanced performance with the iPhone 5S, it should be taken with a pinch of salt as the tests do not reveal or measure real-life performance. The benchmark app must be fully optimised to exploit the new 64-bit processor architecture and also employ the latest OpenGL ES v3.0 tests to test the powerful iPhone 5S hardware to its limits in order to make the performance noticeable.
ALSO READ: PS4 50% Faster than Xbox One, Say Game Developers