iPhones and other handheld gadgets are leading to the deaths of thousands of drivers, passengers and pedestrians, as "iPod zombies" fail to concentrate while travelling on UK roads. Government data reveals 194,477 Britons – either drivers, pedestrians or passengers – were involved in a road accident in 2014, of which 1,775 people were killed and 22,807 seriously injured.
Across all reported road accidents, "failing to look properly" was the most frequently reported single contributory factor, increasing sharply from 32% a decade ago to 44% in 2015. In 2013, 183,670 people were injured in road accidents.
Edmund King, president of the AA, said the rise in "iPod zombies" was contributing to the rise in accidents. "One thing we have been worried about is the rise of iPod zombies," he told The Times. "These are pedestrians who have earplugs in or iPhones out. They are listening to music or texting and they are not concentrating on traffic."
The release of the alarming new data comes as Southwark Coroner's Court heard that Londoner John Burgess, 27, was killed after being hit by a Tube while wearing headphones. At the hearing, witnesses told how he was struck by the train on 10 April after bending down on a packed platform at Stockwell station.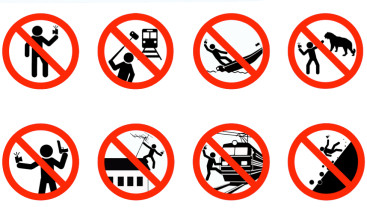 In February a 14-year-old girl was killed at a level crossing in Whitstable, Kent, while "probably" wearing headphones. An inquest on 23 September into the death of Sacha Wheeler revealed she was knocked down by a London-bound train, according to the Kent Messenger.
Despite the worrying trend, the Department for Transport noted the number of fatalities on the roads in 2014 had fallen by 45% compared to a decade ago. It added that it was the lowest year on record for road casualties behind 2012 and 2013.
People failing to concentrate on their surroundings while using mobile phones to take pictures has led to a new trend of selfie deaths, with 12 recorded in 2015.
Most of the selfie deaths have been due to falling or being hit by traffic while not looking and in Russia, the government released a guide detailing how not to die while taking a picture of yourself. Earlier in September, a Japanese tourist died after a fall at India's Taj Mahal after he reportedly slipped on the stairs while taking a selfie at the Royal Gate.
In May, a 21-year-old woman in Moscow survived after shooting herself in the head while posing for a selfie with a loaded gun. There have also been several cases of children being electrocuted while taking selfies on top of railway carriages in Russia.