Iran has blamed "foreign agents" for the death of two activists who took part in anti-government protests.
Hundreds of people began demonstrating against high living costs, unemployment and the country's stagnant economy on Thursday, 28 December. However, rallies soon turned into calls for the supreme leader, Ayatollah Ali Khamenei, to step down. People were heard chanting slogans such as "death to dictator" and "death to Khamenei".
Two activists were reportedly shot dead in the city of Dorud on 31 December. Officials confirmed the deaths, but said that "foreign agents" were behind them, and not security forces as some have claimed on social media.
Officials also claimed that most of the social media reports came from Saudi Arabia, its regional rival, and exile groups based in Europe.
"A number of people took to the streets responding to calls from hostile groups," Lorestan province deputy governor Habibollah Khojastehpour said on state television on 31 December, according to AFP.
"Unfortunately in these clashes two citizens from Dorud were killed. No bullets were fired by the police, military or security forces towards the people," he said.
The protests began in Mashhad and later spread to other cities. Authorities warned those who took part in the protesters that they "will pay the price".
"Those who damage public property, disrupt order and break the law must be responsible for their behaviour and pay the price," Interior Minister Abdolrahman Rahmani Fazli said on state television.
"The spreading of violence, fear and terror will definitely be confronted," he added.
According to the BBC, Iran's Revolutionary Guards have warned anti-government protesters they will face the nation's "iron fist" if political unrest continues.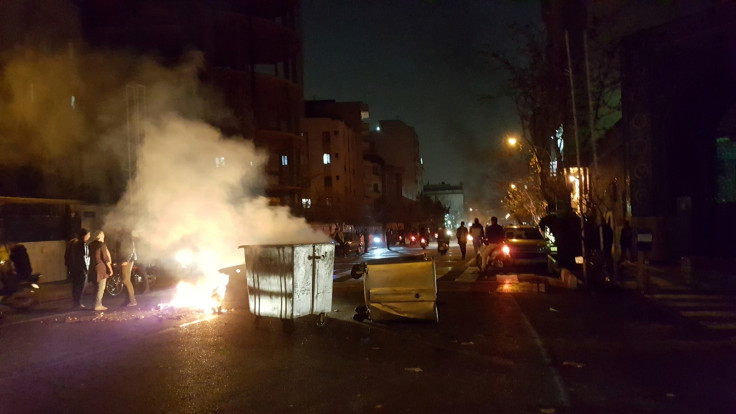 The protests have been labelled as the biggest unrest Iran has witnessed since 2009, when people took to the streets after contested presidential elections saw Mahmoud Ahmadinejad winning a second term.
In Mashhad, some chanted "not Gaza, not Lebanon, my life for Iran", blaming the government for focussing too much on foreign issues and overlooking domestic ones. Iran is supporting the Syrian regime of Bashar al-Assad in the current war in Syria. It also backs Houthi rebels who fight against Saudi-backed forces in war-town Yemen.
US President Donal Trump expressed support for the protests, claiming on Twitter that "oppressive regimes cannot endure forever".
His claims drew criticism from Tehran. Bahram Qassemi , a spokesperson for the Iranian foreign ministry called the comments "cheap, worthless and invalid". He then added: "The great Iranian nation regards the opportunist and duplicitous support of the American officials for certain gatherings over the recent days in some Iranian cities as nothing but [part of] the deceit and hypocrisy of the US administration."