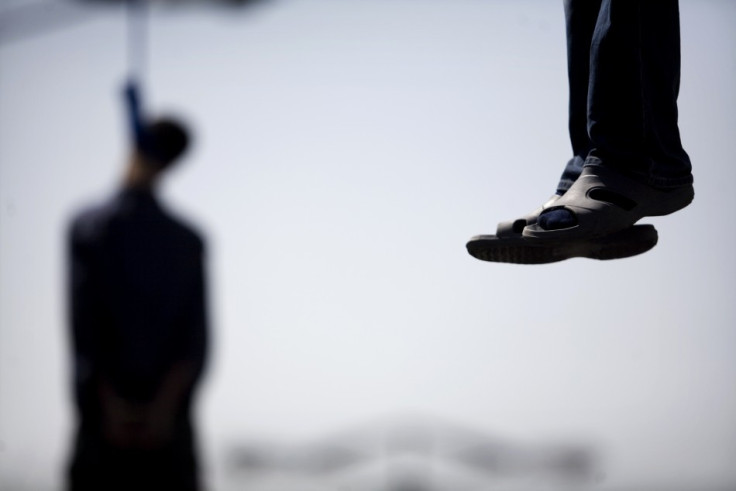 Iran is set to execute juvenile offender Saman Naseem, who is charged with "enmity against God" and "corruption on earth".
Naseem, now 22, was arrested and sentenced to death when he was 17. The execution by hanging is scheduled for Thursday (19 February), despite the country being urged by many rights groups to halt it.
Naseem was arrested after a gun battle between the Revolutionary Guards and Kurdish militant organisation PJAK, of which he is believed to be a member, took place in Sardasht.
Following the arrest, Naseem was reportedly forced to make a confession, aired on national TV, in which he admitted to having fired towards the guards. However, he retracted his confession during the first court session in which he said he had only fired in the air.
Naseem was first charged and sentenced to death in January 2012, but the country's Supreme Court overturned the sentence and sent the case back for a retrial, arguing that he had been under the age of 18 at the time of the alleged crimes.
He then was tried and sentenced to death again.
Rights groups have warned that Iran has signed a treaty which forbids the execution of people who were convicted when they were juvenile.
Amnesty International explained that Iran allows capital punishment for juveniles in case of qesas (retribution-in-kind) and hodoud (offences and punishments for which there are fixed penalties under Islamic law). However, article 91 of the Islamic Penal Code excludes the death penalty if the juvenile offender did not understand the nature of the crime or its consequences, or if there are doubts about the their mental capacity.
"Iran has willingly ratified treaties that oblige the country to not use the death penalty for individuals under the age of 18," Bahareh Davis, Amnesty International's researcher on Iran, told IBTimes UK.
"Saman Naseem was 17 at the time of the crime he was accused of, he should have never been sentenced to death. The authorities' treatment of his case is in breach of both international human rights law and Iran's domestic laws," she continued.
Amnesty also warned that Naseem was not allowed to see his lawyer during investigations, a violation of international standards of a fair trial.
Davis also said that Naseem told his family he was tortured and beaten at the Orumiyeh prison, north-western Iran, where he is being detained.
"The latest development on the case is deeply concerning. He was beaten for several hours by men, apparently from the Ministry of Intelligence, who had cameras and recording devices, in order to force him to make another video-taped 'confession'," Davis said.
"In 2014 Iran said that authorities exercised due diligence when dealing with cases involving juveniles, yet we keep seeing these shocking cases where people are unfairly sentenced to death and are subjected to prolonged torture and are forced to make 'confessions' that are used against them," she continued.
"We are gravely concerned and we continue to campaign and ask the authorities to immediately halt Naseem's execution and give his case a judicial review."
At least two people executed every day
Iran has one of the highest rates of executions in the world. Some of the executions, mainly by hanging, are carried out against minorities and opponents of the government.
"Executions for national security offences are common in Iran. Those accused of such offences are usually held in solitary confinement for long periods and generally do not have access to lawyers," Davis said.
"Lawyers are also prevented from reading the casefiles and are often denied adequate time to prepare defence. Individuals from ethnic minority groups also face a greater risk of being sentenced to death for national security offences."
In a previous interview with IBTimes UK, Mahmood Amiry-Moghaddam, spokesperson of NGO Iran Human Rights (IHR) said: "On average more than two people are executed every day."
The country sparked worldwide outrage after it executed Reyhaneh Jabbari, a 26-year-old woman charged with the murder of a man who allegedly attempted to rape her.