Iraq Crisis: Thousands of Shiite Volunteers Join Army to Fight Isis
Thousands of Shiites have volunteered to join the Iraqi Army to fight the Islamic militants who have captured large swathes of territory in the north of the country.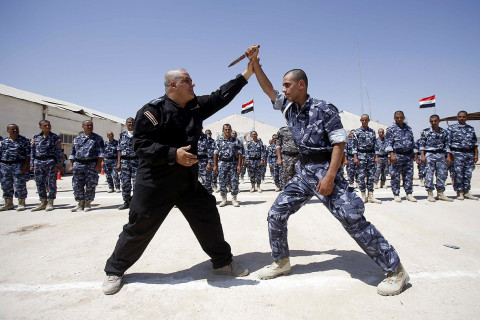 The volunteers have been given military uniforms, and are undergoing basic training. "By God's will, we will be victorious." said one volunteer, Ali Saleh Aziz. "We will not be stopped by Isis or any other terrorists."
This mobilisation is unfolding against a backdrop of religious and nationalist fervour. State-run television airs a constant flow of nationalist songs, clips of soldiers marching or singing, as well as interviews with troops vowing to crush the militants.

The call to arms threatens to intensify tension between Shiites and Sunnis. A representative for Grand Ayatollah Ali al-Sistani, the most revered Shiite spiritual leader in Iraq, told worshippers at Friday prayers that it was their civic duty to confront the threat.
Prime Minister Nouri al-Maliki, a Shiite widely resented by Sunnis for his perceived sectarian policies, denied that the call by the Iranian-born Ayatollahi was directed against Sunnis, saying it was in fact meant to protect the country and its holy shrines. "Talk of Sunnis and Shiites must be dropped," he said, calling for the unity of all Iraqis.
Many volunteers, however, said they had enlisted to protect their faith and shrines at risk in the city of Samarra north of Baghdad and elsewhere. The militants have threatened to march all the way south to the holy cities of Najaf and Karbala, home to two of the most revered Shiite shrines.