Witnesses have described seeing terrified women from the Yazidi sect throw themselves "to their deaths" from the Sinjar mountains to avoid being raped and sold into sex slavery by Islamic State (IS) militants.
Tens of thousands of Yazidi people have been trapped in the mountains in northern Iraq for as long as 10 days without food or water, since Islamic State militants took over the region last Sunday.
On Saturday reports emerged that hundreds of women and girls had been kidnapped by the jihadists and sold into sex slavery for as little as $5 (£3, $3.75).
Some Yazidi people have told journalists that they have called their wife or daughter on the phone, only for it to be answered by an unknown male who "warned them off".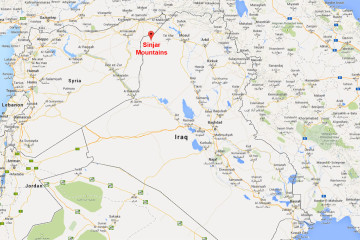 One Yazidi man, Khandar Kaliph, told the Guardian that his daughter was kidnapped when IS took control of Sinjar. After a brief telephone conversation with her he discovered she was going to be sold as a slave for $10.
"What can a father say to that. How can I help? We all feel so useless." he told reporters.
The dangers faced by the Yazidi sect have been revealed by survivors who have crossed Mount Sinjar to reach the Kurdish city of Dohuk.
Other survivors spoke of scarce food, water and medical supplies, with no shade from the scorching sun. Many say they have lost all faith in Iraq.
One woman carrying a child told a Channel 4 reporter how she was forced to make a mountain goat suckle her 2-month-old baby after her own breast milk ran out.
Aid helicopters carrying food and supplies to the Yazidi people trapped in the mountains, including one from the British RAF, finally reached the Sinjar mountains this week.
Witnesses described the sheer desperation of the persecuted people, who "clung on" to the helicopters and tried to escape the treacherous conditions of the mountains.
It's estimated that as many as 40,000 Yazidi people are still struggling for survival in unforgiving conditions on Mount Sinjar. The militants have long regarded the Yazidis as "devil worshippers" and have given them a convert-or-die ultimatum.
"More than 30 people have died of hunger. We went back 100 years in time on that mountain," one man told witnesses upon reaching Dohuk.
He also recalled how one desperate man killed his five sisters and then himself as a last resort to end the persecution suffered at the hands of the brutal jihadi group.