The offensive to retake Tikrit appeared to have slowed down on 13 March, two days after Iraqi security forces and Shi'ite militia pushed into the late Saddam Hussein's home city in their biggest offensive yet against Islamic State (Isis).
IS still holds around half of Tikrit. Using guerrilla warfare tactics, the militants have turned the city into a labyrinth of home-made bombs and booby-trapped buildings, and are using snipers.
More than 20,000 Iraqi troops and Shi'ite militias are taking part in the offensive, which began 11 days ago, advancing from the east.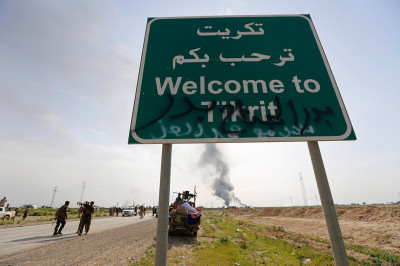 A victory in Tikrit would give Iraqi forces momentum for the next stage of the campaign to retake Mosul, the largest city under IS control.
Any assault on Mosul is likely to be a far more complex undertaking. The northern city is larger, further away from core government-held territory and still densely populated, unlike Tikrit, most of whose residents fled long before the operation began.
IS spokesman Abu Mohammad al-Adnani said in a recording that its fighters remained "steadfast" and were growing in strength, dismissing its enemies claims of gains in Tikrit as "fake".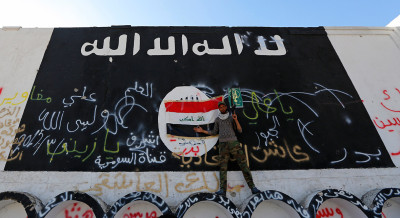 IS is also on the back foot in the north, where Shi'ite militia and Kurdish forces known as peshmerga went on the offensive around the oil-rich city of Kirkuk.
The peshmerga have retaken territory and a number of villages to the south-west of Kirkuk. Kurdish commanders said they had faced relatively weak resistance but were being held up by home-made bombs the militants laid before retreating to their stronghold of Hawijah.