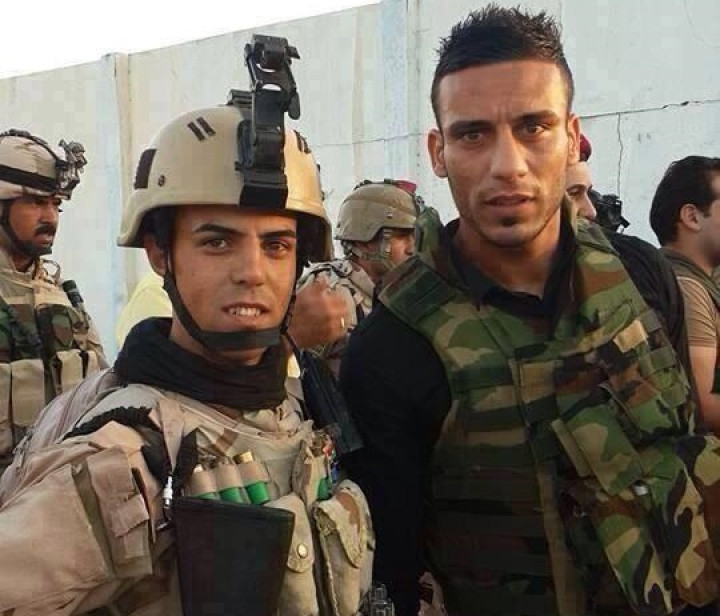 A young Iraqi football star, sought by some top European clubs, has reportedly decided to put his career on hold to join the army to fight off Islamist militants advancing towards Baghdad.
Ali Adnan, 20, was depicted wearing military gear as he posed with Iraqi soldiers deployed to defend Baghdad from jihadist fighters with the Islamic State of Iraq and the Levant (Isis), in photos uploaded to social media.
In several shots, Adnan, a talented 6ft tall full-back dubbed 'Asia's Gareth Bale', can be seen sporting a bullet-proof vest as he embraces numerous members of the Iraqi military, showing his support for the troops.
Local media reported that Adnan, whose uncle is considered one of Iraq's best-ever players, had decided to take up arms and volunteer for the army.
The photos went viral online and proved to be a useful propaganda tool for the government, with many Iraqis who witnessed the collapse of security forces under Isis advance, celebrating Adnan's bravery and vowing to fight back against the insurgents.
The Baghdad-native became a celebrity at home after leading the national squad in its stand-out performance at the 2013 Under-20 World Cup, where Iraq won fourth place.
After the cup, Adnan was signed by Turkish team Caykur Rizespor and has since reportedly attracted the interest of more prominent European teams including, Chelsea, Roma and Galatasaray.
His club confirmed Adnan is in Baghdad but denied he has enrolled in the army.
A spokesperson for Caykur Rizespor told Turkish newspaper Hurriyet that Adnan was on holiday with his family at home but they expected him to return to Turkey for the start of pre-season training in July.
Meanwhile Iraqi government forces are engaged in heavy clashes with Isis just kilometres away from Baghdad.
Isis forces have reportedly captured parts of the city of Baquba, just 60km (37 miles) from the capital.