Nine-year-old twin brothers have been stabbed to death in a suspected murder-suicide involving their older brother, in Cork, Ireland.
The twins - Thomas and Paddy O'Driscoll - were found dead with stab wounds. The boys were discovered by their younger sibling who returned to their home in Charleville at 5pm yesterday.
Their older brother, Jonathan, in his early twenties, who had collected the boys from school earlier that day, was found hanged 10 miles away by the Awbeg River, near the ruins of Buttevant Castle.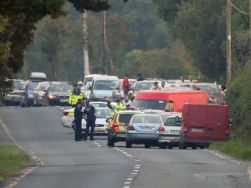 The Gardaí, (Irish Police), believe the discovery of Jonathan is connected to the boys' deaths.
Post-mortem examinations on the three family members are due to take place at Cork University Hospital.
Local media reported the younger brother ran to a neighbour's house and screamed: "Jon has killed my brothers."
It is believed the bodies were found in separate bedrooms in the house and two younger children, aged three and five were also said to be present at the time of the murder.
According to the Irish Times, the Gardaí, last night recovered two knives from the river near where the older brother Jonathan was found. These are being examined to see whether they were the suspected murder weapons..
Sheila Cagney, the headteacher from Banogue National School in Limerick, where the boys attended, said: "This is a terrible tragedy for the family, the school and the whole community. We are deeply saddened by this event.
"Our sympathy and thoughts are with the family and friends at this terrible time."
It is the second murder-suicide to hit Ireland in just six weeks.
In July, Brandon Skeffington, nine, was found stabbed to death in the family home near Tubbercurry before the body of his elder brother Shane, 21, was found hanged in a shed beside the property.