The Irish government has asked the European Court of Human Rights to re-examine the case of 14 men from Northern Ireland who claim to have been tortured by British soldiers at the height of "The Troubles" in Belfast in 1971.
The 14 men had been arrested following the imposition of "Internment" in the Province in a bid to stem the rising tide of violence. Under internment anyone could be arrested and held without being charged indefinitely.
The men claimed to have had hoods placed over their heads before being taken aboard helicopters to a secret interrogation centre later revealed as Ballykelly Army base. On the way the men were thrown from the helicopter, believing themselves to be hundreds of feet in the air, whereas they were only a few feet from the ground.
Once inside the base the men were subjected to "the five techniques" - sleep, food and water deprivation, being ordered to stand in a stress position for long periods and being beaten if they fell. None of the men was charged.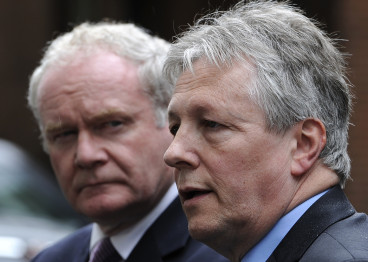 When the case was first heard in 1971 the Court agreed torture had occurred, but in 1978 the court amended the wording to 'inhumane and degrading treatment,' apparently after consultation with British authorities.
Now an RTE documentary, "The Torture Files," claims to have uncovered new evidence which shows the British were with-holding information when they appealed to the European Court and that the interrogation techniques had been agreed at Cabinet level.
Irish foreign affairs minister Charlie Flanagan said the Irish government is "aware of the suffering of the individual men and their families, of the significance of the case and of the weight of the allegations. On the basis of the new material uncovered, it will be contended that the ill-treatment suffered by the hooded men should be recognised as torture."
A spokeswoman for the UK's Northern Ireland Office said: "When the case was heard back in the '70s, the UK government did not seek to justify treatment experienced by the individuals commonly referred to as 'the hooded men'. These events took place many years ago. This government adopted a Strategy for the Prevention of Torture in 2011 and this remains one of our global human rights priorities."