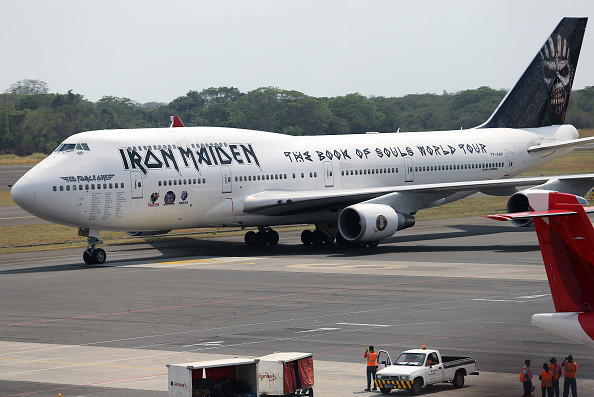 Two people were injured when Iron Maiden's touring plane known as Ed Force One crashed with a ground vehicle in Santiago, Chile. The heavy metal band's plane was badly damaged during the collision.
The accident happened while the jet was attached to a tow truck to be taken for refueling and collided with a ground tug. No band members or crew were aboard at the time of the incident, although two airport staff were injured.
The band said in a statement on its website that they are making contingency plans to reach their show in Cordoba, Argentina.
"The flight engineers are on site and evaluating the damage, but their initial report is that the engines have suffered large damage and will require an extended period of maintenance and possibly two new engines," the band said.
"Fortunately the 20 tons of equipment had not been loaded onto Ed Force One at the time of the accident, and none of the band or our road crew were on board or near the airport.
"Although this is tragic for our beautiful plane we do not expect this to affect our concert schedule including the next two shows in Cordoba and Buenos Aires."
The band expressed their concern for the two airport staff injured in the collision, adding they wished them a "a full and speedy recovery".
The Boeing 747, known as Ed Force One, is often piloted by lead singer Bruce Dickinson, who is a qualified commercial pilot.