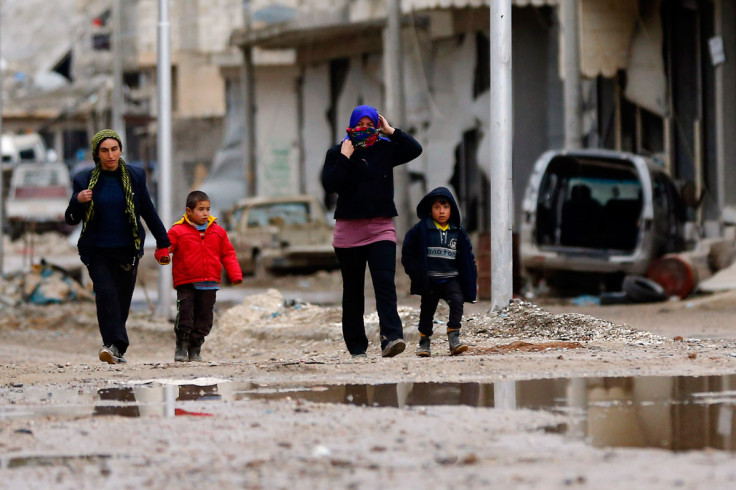 Four Kurdish women were raped by Islamic State (Isis) jihadi fighters then stoned to death in front of a large crowd for their 'adultery', say activists in northern Iraq. The women were apparently subject to the barbaric execution in the Daesh (Isis) stronghold of Mosul whilst the men involved remained unidentified.
The IS terrorist's warped interpretation of Shariah law is implemented by a court system that operates throughout its thiefdom in Syria and Iraq. Mosul is the second biggest city under their control after Raqqa in neighbouring Syria.
IS has come into conflict with Kurds, and Kurdish insurgents, in Iraq with a number of nearby towns being taken, then retaken, in violent skirmishes since Mosul was captured in June 2014. Currently, with the help of US-led airstrikes, Kurdish armed forces have advanced to just a few miles north of the city but are not believed to have the fire power to take the city alone.
Because of the lack of information surrounding the identities of the men the women were allegedly raped by, local activist Raafat Zarari told the pro-Kurdish Syrian media outlet ARA News, it was probably extremist insurgents fighting with the barbaric regime. The 'adulterers' were arrested on Wednesday 10 February and "stoned to death in front of a large crowd of people in central Mosul" the next day.
Another fellow activist, Abdullah al-Malla, told the news organisation: "The statement of the Sharia Court avoided mentioning the men," he said according to the Independent. "Apparently, the victims have been raped by Isis jihadis and then stoned to death on charges of committing adultery."
A report looking at alleged violations and abuses of international human rights law by Isis and various other terrorist groups was published last month by the Office of the United Nations High Commissioner for Human Rights. The report was based on first-hand accounts from "independent, credible and reliable sources" and said that IS may have committed genocide, war crimes and crimes against humanity in its attacks against ethnic and religious groups in the country.