Isis Baghdad bombing: Death toll in Ramadan attack on city's Shi'ite community rises to 130
Rocks were thrown at Iraq's Prime Minister Haider al-Abadi as he visited scene of carnage.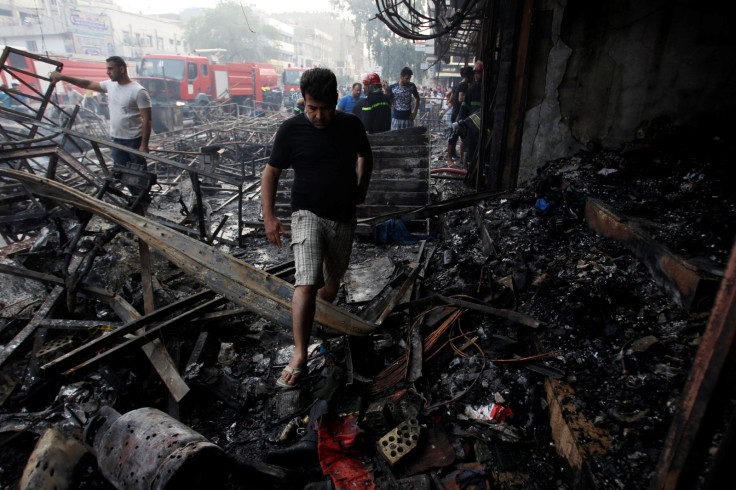 The death toll from a huge car bomb that devastated the Baghdad shopping area of Karrada at around 1am local time on Sunday, 3 July, has risen to 131, according to local police speaking to Al-Jazeera. Another 200 people are injured, many seriously as three days of national mourning have been declared.
Islamic State (Isis) has claimed responsibility for the attack, which targeted Shi'ite Muslims shopping and eating late at night, after their daily fast for Ramadan had ended. Many of those killed were said to be children. The attack was the deadliest to hit the city this year.
Reports from the scene of the attack say the bomb was probably packed in a refrigerated truck left in the centre of the area. Several buildings were badly damaged in the explosion and ensuing blaze.
Funeral processions for the victims took place throughout Sunday.
Video posted on social media shows a convoy bringing Iraq's Prime Minister Haider al-Abadi to visit the scene of the carnage being attacked with stones by angry crowds, shouting at him to "go out".
Isis (Daesh) has repeatedly targeted Baghdad in the hope of fermenting a sectarian war between Sunni and Shi'ite citizens, but was weakened by losing the nearby town of Falluja recently. The Baghdad attack has been condemned by the Sunni Association of Muslim Scholars in Iraq, which called the bombing a "bloody crime, regardless of who carried it out or what their motivations were".
A recent series of defeats on the battlefield has left IS forces in Iraq weakened but not defeated, and the group's ability to strike mostly civilian targets across the world appears undiminished.
The bombing in Karrada was closely followed by a second attack in another Shi'ite district in north Baghdad. Al-Jazeera reports that five people were killed and 16 were wounded in that attack.

The day before 20 people were killed at a cafe in Dhaka, Bangladesh and on 28 June 45 were killed at Turkey's Ataturk Airport in attacks thought to be carried out or inspired by IS.
© Copyright IBTimes 2023. All rights reserved.