Terror group Islamic State (Isis) has released a new video showing how the militants train children to become fighters.
The video, entitled Blood of Jihad 2, shows children, defined by the insurgents as "fighting cubs", engaging in fights and choreographed performances while holding what appear to be AK-47s.
Children are also seen practising how to disarm people and capture enemies.
In the video, one IS member says the group gathers the strongest children, who are also "the most willing to combat God's enemies including the rejecters, apostates, atheists and they are holders of the belief."
The man then explains that the training revolves around three main aspects: "Taking care of physical fitness, and fighting and defending oneself in different scenarios."
The programme specifically concentrates on "military training, planning, using all weapons, ambushes, making explosive devices, raiding houses and residences and modern warfare techniques using gangs, fighting in built up areas and in the mountains."
Other key areas include "Sharia studies and Islamic principles of warfare, preserving their good manners, unity, working to obey Allah and to gain victory for Prophet Muhammed (peace be upon him)'s religion."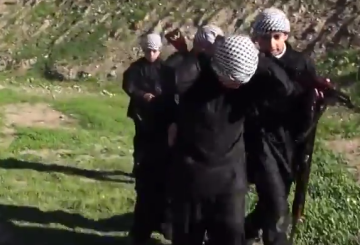 Blood Of Jihad 2 emerged one month after the original Blood Of Jihad footage was released, showing the training of IS members.
This time, however, the recruits are much younger.
IS is renowned for releasing propaganda videos to promote its insurgence in Syria and Iraq and recruit new members.
The militants are also very active on social media and, according to a recent study, they post about 90 messages on Twitter every minute.
IS often recruits and trains children tor its insurgence. According to the UN, the terror group "prioritises children as a vehicle for ensuring long-term loyalty, adherence to their ideology and a cadre of devoted fighters that will see violence as a way of life."
In October, IS announced one of its youngest fighters, a 10-year-old boy, was killed along with his father in Syria.
The terror group hailed the boy as IS' youngest martyr.