The Briton who rants against David Cameron in the latest Isis video before shooting a "spy" in the head has been identified by some newspapers as Hindu convert Siddhartha Dhar, also known as Abu Rumaysah al-Britani. Dhar, a former bouncy castle salesman from Walthamstow, east London, converted to Islam on marrying a Muslim and went to join the Islamic State (Isis) in Syria.
However the family of Dhar have said they aren't certain he is the person who appears on the video, taunting the prime minister and killing a man in cold blood. Sister Konika Dhar said she had changed her mind about the clip, at first believing it was her brother but later was not so sure.
"I was in a state of shock," Konika said. "I believed the audio to resemble, from what I remember, the voice of my brother but having viewed the short clip in detail, I wasn't entirely convinced which put me at ease".
However some experts believe the man on the video could well be Dhar. Director of international security studies at the Royal United Services Institute (Rusi) Raffaello Pantucci said: "He sounds a bit like Abu Rumaysah from Al-Muhajiroun videos. From watching him in Al-Muhajiroun videos and this new video he sounds very similar."
Dhar has been an outspoken extremist for some time. Even before travelling to Syria, he appeared on television several times and was charged alongside Anjem Choudhary with supporting a banned Muslim hate group. Dhar was arrested but later fled the country.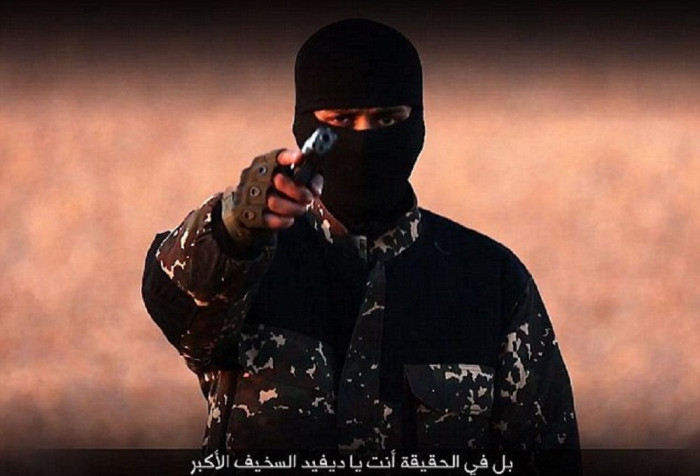 Konika said she hopes her brother isn't the man in the video. "If it is him, bloody hell, am I shocked? I am going to kill him myself. He is going to come back and I am going to kill him if he has done this. I can't believe it. This is just so shocking for me. I don't know what the authorities are doing to confirm the identity, but I need to know if it is."
Dhar has posted a number of videos and articles extolling life under the Caliphate. He authored a "tourist guide" in which he waxed lyrical about local culinary delights and the cosmopolitan flavour of Raqqa, the IS (Daesh) stronghold. In a video on YouTube, he describes democracy in Britain as "oppressive," claiming his home country is rife with evils such as pornography, abortion and gambling". By contrast, "lucky" citizens living under the Caliphate are given "free housing and gas".
In another video, Dhar appears to regret the killing of innocent hostages - which he later does himself. "I don't want to see another James Foley, or Stephen Sotloff or David Haines, but unfortunately the way the West and the Europeans are going about things in terms of their policies with air strikes, and intervening in the Caliphate, sadly I can't see an end to this."
Experts believe the video shows that IS is becoming increasingly desperate, after losing territory in Iraq and Syria and with many senior figures dead. David Cameron condemned the new video and said the fight against IS would continue.
The Daily Telegraph reported that Dhar was able to travel to Syria with his wife and four children under the noses of the security services, despite being on bail for alleged terrorism offences.