The Isis terror group has claimed responsibility for what is thought to be its first suicide attack in Somalia. Five people died when a suicide bomber detonated an explosive at a checkpoint in the northeastern port city of Bosaso, in the semi-autonomous region of Puntland, on Tuesday (23 May).
"Security forces stopped the suspect when he approached but he detonated himself leaving five people dead. One of the security officers and four civilians were killed in the blast," local police official Mohamed Dahir Adan said, reported AFP.
The group's Amaq news agency claimed responsibility for the attack, according to SITE intelligence group.
Witnesses believe the bomber was trying to target a nearby hotel often used for meetings by officials.
Although this is considered the first suicide attack linked to Isis, the group had previously claimed responsibility for an explosion that targeted a military vehicle belonging to the African Union (AU) in the outskirts of the capital Mogadishu last April.
Somalia-based al-Shabaab terrorists, who pledged alliance to al-Qaeda in 2012, have been urged by Isis to join their struggle.
Tuesday's attack took place after an al-Shabaab commander and recruiter based in Puntland, British citizen Abdul Qadir Mumin, had pledged alliance to Isis in October 2015.
A few weeks after the announcement, a bus attack on the Kenya border with Somalia was linked to Isis.
The announcement was a reflection of tensions within Shabaab and caused a fracture in the group, whose intelligence and security wing, known as Amniyat, has been arresting members suspected of trying to defect to Isis.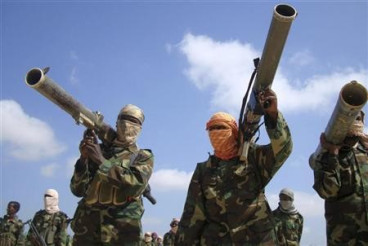 Last year, the Isis-affiliated group tried to seize the town of Qandala, in Puntland, only to be driven out by Somalian forces a few days later.
Some experts and analysts believe the scale of ex-Shabaab militants now loyal to Isis is still small and Shabaab remains predominantly loyal to al-Qaeda.
However, the 2015 Shabaab defection and a link with Nigeria-based Boko Haram terrorists, who now represent the "Islamic State's West Africa Province (Iswap)", suggest Isis might try to continue its expansion in East Africa.
The International Crisis Group estimated last November that the group counted some 200 members and warned the threat of IS could not be "dismissed as insignificant".