Islamic State (Isis) has decided to wage war against Twitter because the social network has been closing down Jihadist accounts, and is calling on its followers to behead Twitter employees.
In an online post to JustPaste.it on Sunday 1 March, a Polish information-sharing website that is now IS' favoured online propaganda tool, the terrorists blame Twitter for getting involved and shutting down accounts sharing videos and images of gruesome hostage executions.
The post is addressed to Twitter co-founder Jack Dorsey, and his picture has been photoshopped with the crosshairs of a gun superimposed on top of his face.
"Your virtual war on us will cause a real war on you," reads the post, translated from Arabic.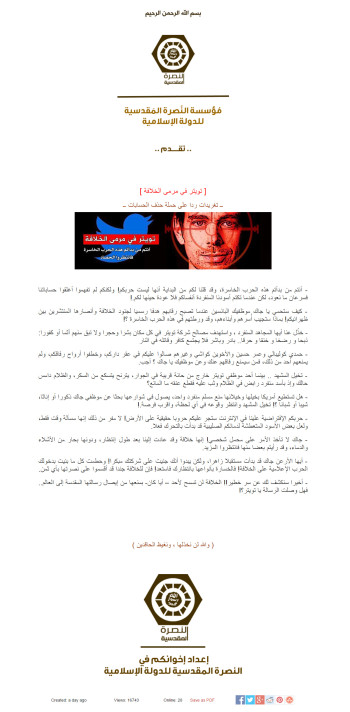 "You started this failed war. We told you from the beginning it's not your war, but you didn't get it and kept closing our accounts on Twitter, but we always come back," the post continues.
"But when our lions [brave men] come and take your breath, you will never come back to life."
The post goes on to add that the necks of Twitter employees would now "become a target for the soldiers of the Caliphate," telling Dorset to imagine his staff being attacked and decapitated while on the way home from a pub.
IS said: "Imagine the scene and wait for its occurrence at any moment, and the earliest opportunity! For the 'individual jihadi' all over the world, target the Twitter company and its interests in any place, people, and buildings, and don't allow any one of the atheists to survive."
A Twitter spokesperson told BuzzFeed: "Our security team is investigating the veracity of these threats with relevant law enforcement officials."
Twitter has been suspending IS accounts since June 2014, but new accounts continue to pop up, as many supporters use JustPaste.it's forum to trade tips on how to avoid having their accounts suspended by opening new accounts with slightly different usernames.
The website is also believed to be popular with the British men and women that have travelled to Syria to join IS, who use it to try to recruit more British Muslims to join them.
Some of the accounts that have been banned include the account of Khadijah Dare, 22, a Jihadi bride who has threatened to decapitate David Cameron. She now posts photos online of her son holding an AK-47 rifle.
Other posts feature IS members holding severed heads, such as Abdel-Majed Abdel Bary, 24, who left his rap career in London to fight with Isis in Syria.