Iraq's air force is carrying out more than 60% of missions against Islamic State (Isis) and the remainder by the US-led coalition, the country's prime minister said on 9 January. But Haider al-Abadi said Iraq still needed foreign assistance for air cover, training and armament.
Speaking at a ceremony in the country's capital, Baghdad, he again called for Turkey to withdraw troops around Mosul, the largest city in northern Iraq, which has been under IS (Daesh) control since 2014.
"This is a frank invitation to Turkey our neighbour to pull out its forces from Iraq," he said in comments broadcast live on state TV. "We will deploy every effort permitted by our rights and international law to make them leave."
Citing heightened security risks, Turkey deployed around 150 troops and 25 tanks at a military base in the Bashiqa region of Mosul where it is training an Iraqi militia to fight IS.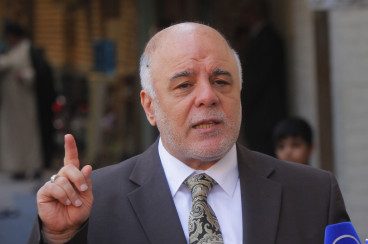 A deal for the base was signed in November 2015 between the Kurdistan Regional Government (KRG), President Massoud Barzani and Turkish Foreign Minister Feridun Sinirlioglu, according to Turkey's Hurriyet newspaper.
Turkish army sources told the country's state-run Anadolu news agency on 5 December 2015 that they had been training fighters across four provinces in northern Iraq to fight IS using home-made explosives, heavy machine guns, mortars and artillery. They had also received first-aid training, the agency reported.
IS lost 18 fighters when an attack on the base was repelled by the country's troops, Turkish President Recep Tayyip Erdogan said on 8 January, a claim later denied by the Iraqi army.
In December 2015, Iraq's beleaguered army scored its first success against IS when it recaptured the city centre of Ramadi, with air support from the coalition. Until then, it was the Iran-backed Shia militias who were leading the fight against the hardline Sunni militants.
A spokeswoman for the US State Department told IBTimes UK they would see if they had more information.