Isis: incredible video shows moment a suicide bomber's car explodes in midair
Stunning video footage has emerged of the moment an Isis (also known as Islamic State or IS) suicide bomber attempting to attack Kurdish Peshmerga forces was blown into the air along with his car, which then exploded.
The video, reportedly filmed near Kirkuk in northern Iraq on 12 April, appears to show the car being blown high into the air, possibly due to an IED which detonated beneath the vehicle as it approached its intended target. Just as the car began descending from a great height it exploded in spectacular fashion, the cause being either the explosives being carried or the car's fuel tank.
The video is the latest in a long line of videos filmed and published by Kurdish Peshmerga forces in Iraq in which IS militants are seen attempting, and failing, to launch deadly attacks - being killed in the process.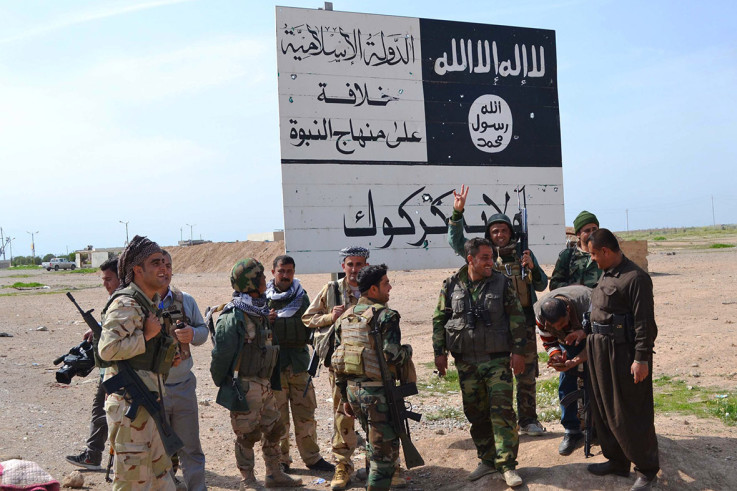 Iraqi Kurdish Peshmerga fighters stand next to an Islamic State sign at the entrance to the town of Hawija, south of Kirkuk after they reportedly re-took the area from IS jihadists
Marwan Ibrahim/AFP
IS has become notorious for the sophistication and brutality of its own video productions, which often include beheadings and mass executions. Unlike most previous forms of propaganda, which portrays the enemy as brutal thugs, IS videos appear to revel in highlighting their own brutality.
Now the Kurds appear to have fought back in the propaganda stakes as well as on the battlefield in a bid to show IS are anything but the invincible Jihadists they claim to be. Other recent videos released by the Kurds have showed cars and armoured trucks exploding as they are hit by tank shells and men in suicide vests being shot dead as they charged.
It's impossible to tell from the videos whether IS or the Kurds are winning the battle for territory in Iraq and Syria: what becomes clear from the videos is how brutal the war actually is, the depths of hatred for one another so graphically laid bare for internet users around the world to watch, enjoy and gloat over.