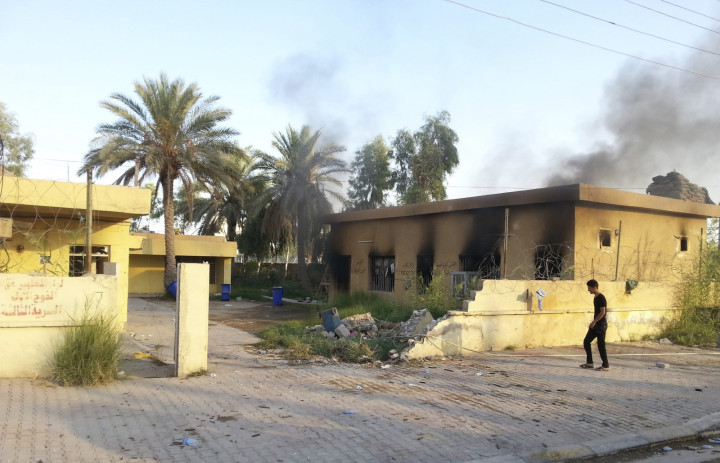 Islamic State (Isis) lined up and shot dead 30 Sunni men in Iraq's Anbar province, according to reports.
Anbar provincial chairman Sabah Karhout said the Sunni tribesmen, allied with the government and members of the security forces, were captured when jihadists conquered the town of Hit, which is 140km (85 miles) west of the capital, Baghdad.
Earlier in October, Iraqi troops helped by Sunni fighters from the Albu Nimir tribe were forced out from the town, Anbar's fifth-largest city, after heavy clashes with Isis.
IS captured Fallujah in January and has since expanded its hold in the province. In September, the group renewed its offensive and is now in control of more 80% of the province, Iraqi officials said.
"Isis has conducted a sophisticated campaign in Anbar Province over the past four weeks in order to capture additional cities in the Euphrates River Valley," the Washington-based Institute for the Study of War (ISW) said.
"It has consolidated its supply route from Syria into central Iraq, gained freedom of movement in both countries, and received reinforcements for the Anbar offensive probably from its safe havens in the Albu Kamal area in Syria, Mosul and Iraq's Lake Thar Thar region.
During its advance, in September IS seized the Iraqi military base of Camp Saqlawiyah, 45 miles (70km) west of Baghdad, amid claims the government failed to provide adequate support to its troops stationed there.
The Obama administration and Iraq has teamed up with some Sunni tribesmen to fight against Isis in the hope of rekindling the same Sunni uprising that shattered an al-Qaida-linked group at the height of Iraq's sectarian civil strife between 2005 and 2007.
At the time, US military recruited and paid Sunni tribes to lead the struggle against the jihadists. But the Shi'ite-dominated government of former prime minister Nouri al-Maliki fueled sectarianism and disenfranchised the Sunni community from power, driving them to support Isis in the first stance.
The US believe Iraq Prime Minister Haider al-Abadi's newly formed government can be more inclusive of Sunni Muslims and Kurds, helping the American-led coalition to stop the Islamic State.