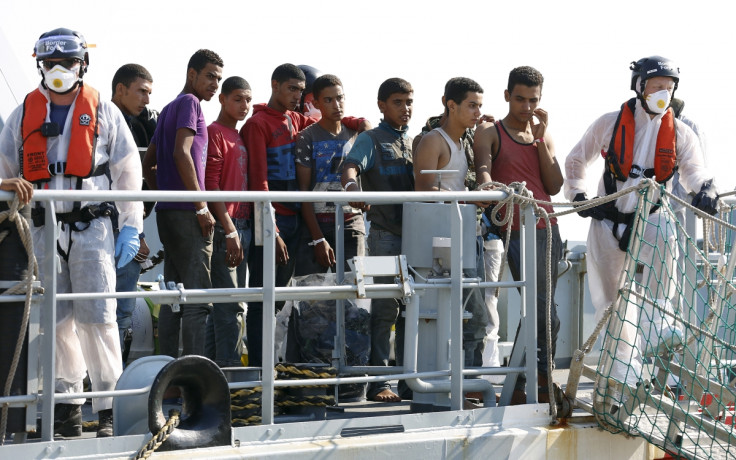 A Syrian migrant suspected of being a member of the Islamic State (Isis) group has been arrested in Sicily. The 20-year-old arrived on a boat in the Ragusa port of Pozzallo on 4 December, mixing himself with other migrants. He arrived on the same day as nearly 2,000 migrants and refugees were rescued off the Libyan coast.
Italian police connected him to IS (Daesh) after uncovering pictures showing "terrorist acts" on his mobile phone and text messages reading "Allah is great, but Isis is greater". A preliminary investigatory judge questioned the suspect on 14 December and agreed to his detention.
Italy's interior minister Angelino Alfano said: "It is a monitoring operation that worked, the proof that the system of prevention works. Our work does not allow a break: day and night we're on the field with our best investigative teams and our best men."
The arrest came a week after an Iraqi man was arrested in the southern Italian city of Bari on suspicion of smuggling jihadists into the country and planning terrorist attacks across Europe. Majid Muhamad, 45, is accused of assisting people linked to international terror cell Ansar al-Islam to get into Europe, including providing them with accommodation and fake passports.
The man, who was released from an Italian prison in 2013 after serving a 10-year sentence on international terrorism charges, had won an appeal against a deportation ruling and managed to integrate himself in the Bari social community. He rented an apartment and even opened a kebab shop, which quickly became a meeting hub for other migrants.
Muhamad was arrested after Digos, Italy's anti-terror squad, intercepted his telephone calls with members of Ansar al-Islam in Norway. It emerged that the group was planning terrorist attacks in other European countries.
Ansar al-Islam is a terror cell founded in 2001 by Iraqi-Kurdish emir Najmuddin Ahmed Faraj, also known as Mullah Krekar, who was arrested in November along with 17 other suspects across Europe. Six people were arrested in Italy, four in Britain and three in Norway. Some of the suspects may have travelled to Syria or Iraq, according to police.
Ansar al-Islam is listed by the UN as a terrorist organisation affiliated with al-Qaeda. The network was allegedly planning to free Mullah Krekar, who was already in prison in Norway. Krekar, who went to Norway as a refugee in 1991, has served several jail sentences in recent years, including for lauding the massacre at the headquarters of French satirical magazine Charlie Hebdo in January, in which 12 people were killed.