Supporters of the Islamic State in Libya have called for the death of infamous al-Qaeda-linked jihadist Mokhtar Belmokhtar for his role in spearheading a fightback against the militant group in the eastern Libyan town of Derna.
In images circulated on social media, supporters of the group have called for the death of the Algerian terrorist who masterminded the 2013 attack on Algeria's In Amenas oil facility that left 35 dead, including three Americans.
Belmokhtar, who has been branded elusive at various points, is wanted by Islamic State for apparently helping al-Qaeda-linked militants from Derna. In June Derna's Jihadi Shura Council led an armed insurrection against Islamic State which had held the balance of power there for a year.
Belmokhtar was in Libya at the time and was targeted by US air strikes on the town of Ajdabia. For a number of days he was believed to have been killed in the attack but an extremist group later said he had escaped.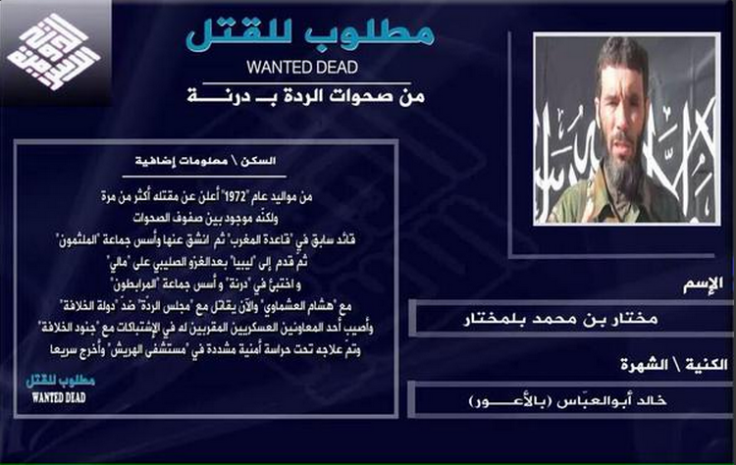 US officials later confirmed the death of Tunsia's most wanted jihadist, Seifallah Ben Hassine in the air strike. The pair appeared to have been meeting in the relative safety of Ajdabia while fighting raged in Derna.
The charges filed against Belmokhtar by federal law enforcement officials in Manhattan included conspiring to support al-Qaeda and use of a weapon of mass destruction. Additional charges of conspiring to take hostages and discharging a firearm in furtherance of a crime of violence carry the death penalty.
Belmokhtar has achieved legendary status among jihadists and has escaped numerous attempts on his life. He is also know as Mr Marlborogh and has used lucrative smuggling operations and an intimate knowledge of trafficking routes across the Sahel to advance his extremist agenda, moving black market items including weapons.