The Islamic State (Isis) has apparently massacred over 50 civilians and buried them in a mass grave, before they fled a town in Iraq in their latest propaganda video. The latest video published on 22 September through the terrorists' channels features dozens of civilians being executed in Wilayat North Baghdad, or the area of north Baghdad.
Militants are heard celebrating the killings of dozens of people they have labelled kuffar, which is a derogatory term for a non-Muslim.
Isis (Daesh) has attempted to invade the Iraqi capital on numerous occasions taking some areas to the west and to the north of the city. The video is believed to be from al-Tarmia, a town north of Baghdad which the terrorists fled from in 2014.
IS have been accused by the European Parliament of the genocide of Christians and Muslims with the UN also saying that 'possible genocide' had taken place in the north of the country. They have also targeted Shia Muslims and in the latest 30-minute video militants are shown rounding up and mass executing "sahwat".
The Long War Journal says that: "The Islamic State's opponents... are part of the "sahwat" and may have had crucial assistance from the US during the fight against the terrorist's predecessor organisation al-Qaeda in Iraq (AQI)."
The video shows multiple clips of civilians being murdered, some were kidnapped from their homes in the dead of night, and some of the clips show elderly men lead to their deaths pleading for their lives. In the most shocking clip armed militants lead dozens of men into freshly dug trenches wearing blindfolds.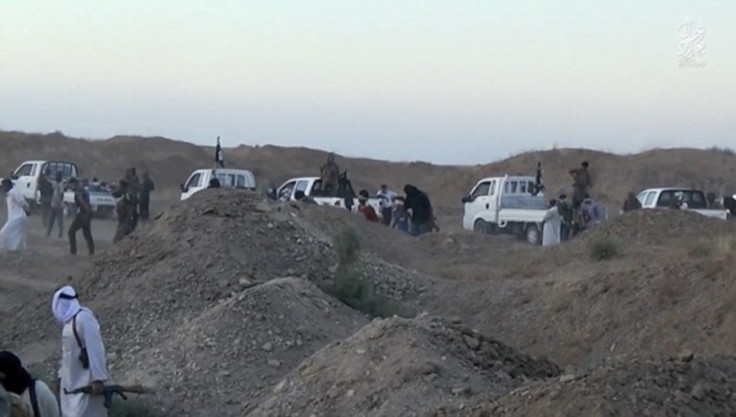 After they were labelled apostates the jihadists kill the men systematically with single shots to the back of the head at point-blank range. It is not clear exactly when the massacre was filmed. ID cards were shown to the camera suggesting the men may have been soldiers in the Iraqi army, and also Shia Muslims.
On 21 September a video purportedly released by IS featured a Russian spy pleading directly to his President Vladimir Putin for help. The video, said to have been filmed in Wilayat al-Furat, a Daesh (Isis) controlled area on the Euphrates River in Syria showed an interview with Yevgeniy Petrenko, an Russian Federal Security Service (FSB) agent, although doubts have been cast about it's authenticity.
The latest video has been released amid suspicions the extremists fired a shell containing mustard gas at US and Iraqi troops. Defence officials based in Washington say that the shell landed at the Qayyara air base, south of Mosul in Nineveh Province, on Tuesday 20 September.